Korea has now shared its agricultural know-how about harvesting tomatoes with 15 African governments.
The Rural Development Administration (RDA) announced on Jan. 18 that it has published "Postharvest Handling of Tomatoes in Africa," a technical manual that outlines the skills and processes needed to handle harvested tomatoes. The manual is being distributed in Congo, Ethiopia, Gabon, Ghana, Kenya, Malawi, Nigeria, Senegal, Sudan, Tunisia, Uganda and Zimbabwe.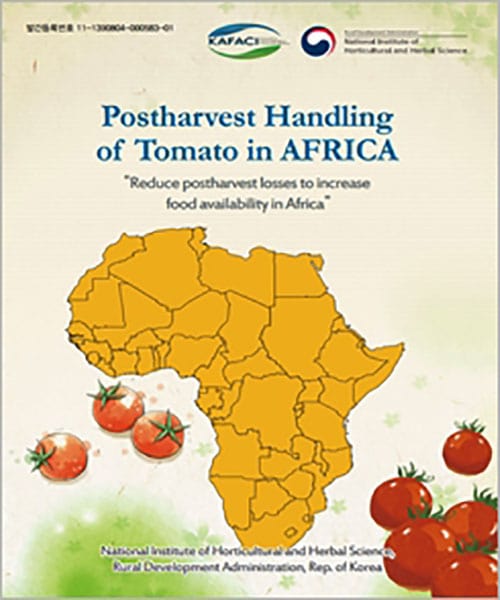 The manual is the outcome of joint research carried out by the RDA and agricultural experts from the 15 countries over the past few years.
Postharvest losses in the process of distribution, such as physical damage or decay, can be as high as 40 or 60 percent in some cases. The release of the RDA manual is expected to reduce such losses by more than 20 percent, as it offers some of the most applicable technologies and techniques tailored to each local environment, which are mostly short of capital and infrastructure.
The guide book is designed to provide ideal ways or better ways to carry out each step, from harvesting, selecting and processing all the way to packaging, distributing, storing and shipping, as part of the efforts to minimize postharvest losses.
Ethiopia has seen tomato losses cut by about 20 percent since it started using guidance from the manual. As said in the book, the tomato harvest was first kept in cold storage and each 20 or 25 kilograms of fruit was put in plastic boxes.
The country used to suffer many losses from the way in which it used to distribute its tomato harvests, sometimes packaging them in boxes up to 50 kilograms, and using on occasion wooden boxes or burlap sacks, without any selection or cold storage process.
"Only when the knowhow that the manual contains is properly used will postharvest losses decrease, and at the same time the added value that farmers can find in their product will increase," said an RDA official. "This new manual will help lay the foundation for our Korea to provide more support to African countries in terms of postharvest tomato handling technologies, too."
* Please click the link to read the agricultural manual "Postharvest Handling of Tomatoes in Africa."

By Sohn JiAe
Korea.net Staff Writer
Photo: RDA
[email protected]