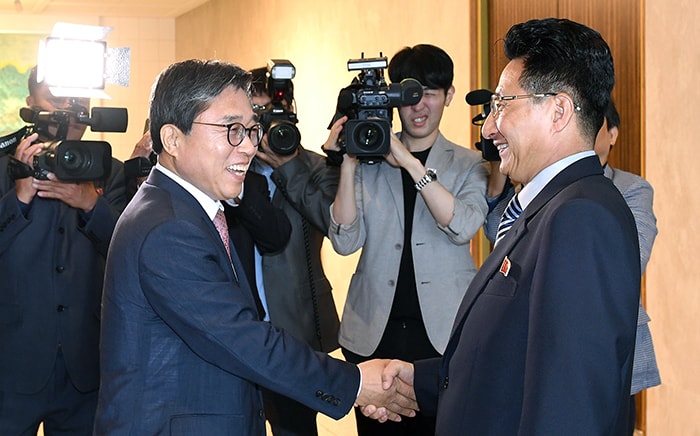 By Lee Kyoung Mi and Kim Young Shin
Photos = Ministry of Unification
South and North Korea agreed to hold baseball matches in Pyeongyang on July 4 and in Seoul in the fall. The two sides also agreed to march together in the opening and closing ceremonies at the 2018 Asian Games to be held in Jakarta and Palembang, in Indonesia, this August.
The sports authorities from the two Koreas met at the Peace House, located on the southern side of the Panmunjeom Truce Village, on June 18 and released a joint statement regarding the basketball matches and the joint marches in the Asian Games.
South Korea will dispatch its basketball players to the North for a friendly match in Pyeongyang. They will play against each other as well as on joint teams.
The two Koreas also agreed to march together under a single, unified flag in the opening and closing ceremonies at the Asian Games this year. They will march to the traditional folk song "Arirang." They also decided to form joint teams for some of the events.
The meeting was attended by the South Korean delegation led by Secretary General Jeon Choong-Ryul from the Korean Sport & Olympic Committee and the North Korean delegation led by Vice Minister of Physical Culture and Sports Won Kil U.