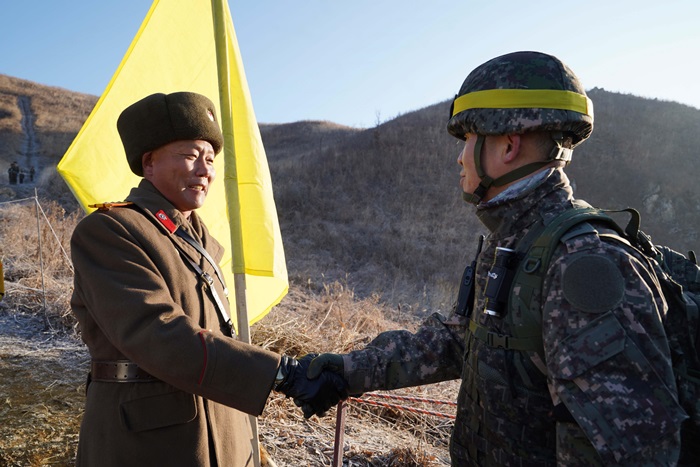 By Kim Young Deok and Kim Young Shin 
Photos = Ministry of National Defense
The two Koreas on Dec. 12 completed joint verification of the removal of 11 guard posts within the Demilitarized Zone (DMZ) a first on the Korean Peninsula since its division in 1953.
A combined 154 inspectors on 11 teams each with seven members from each side checked if the measure followed the Agreement on the Implementation of the Historic Panmunjeom Declaration in the Military Domain concluded on Sept. 19 by both Koreas.
The South Korean teams crossed the border at 9 a.m. and confirmed the removal of arms and troops and the destruction of facilities above ground and under for three hours. The North's teams traveled south for three hours to do the same.
The inspectors moved along the cross-border trails inside the DMZ, using equipment such as a laser distance meter and remote camera to verify the demolition of major facilities like underground tunnels.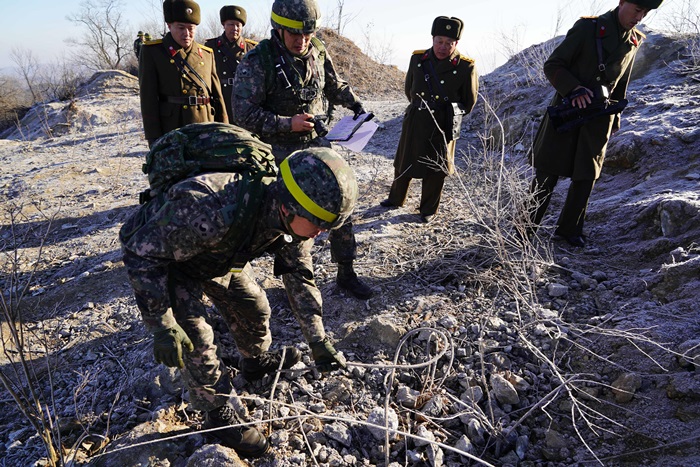 South Korean President Moon Jae-in watched the process live from Cheong Wa Dae.
"This event has set a milestone in Korea's 65-year history of division," he said. "South and North Korea have blazed a trail in overcoming borders inside the DMZ, where they used to have tense confrontation, and removed guard posts where opposing soldiers faced each other. Such actions were deemed unthinkable in the past."
"Both sides thoroughly demonstrated the will to implement their military agreements."
The Ministry of National Defense in Seoul said both sides will evaluate and analyze the results of the inspections conducted that day, as well as tie up loose ends by the end of the month.
kyd1991@korea.kr