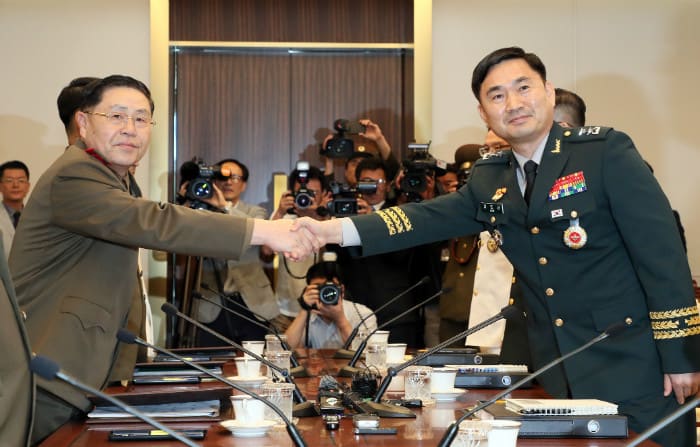 By Kim Hyelin and Kim Young Shin
South and North Korea held their ninth general-grade military talks on July 31 at the Peace House on the South's side of the Panmunjeom Truce Village.
"We reviewed progress made after the last general-grade military talks in June. We discussed the withdrawal of border guard posts in the JSA on a trial basis, the halting of hostile acts in the West Sea, and the joint excavation of war remains in the DMZ," said Major General Kim Do-gyun, the head of the South Korean delegation, after the meeting.
They agreed to fix specific methods and schedules through phone calls and through working-level meetings.
The leader of the North Korean delegation, Lieutenant General An Ik San, said, "The meeting was very productive and it actually brought joy to the people in both North and South."
The South Korean delegation also delivered a letter from Vice Minister of National Defense Suh Choo-suk to invite the North's delegation to the Seoul Defense Dialogue to be held from Sept. 12 to 14.
kimhyelin211@korea.kr