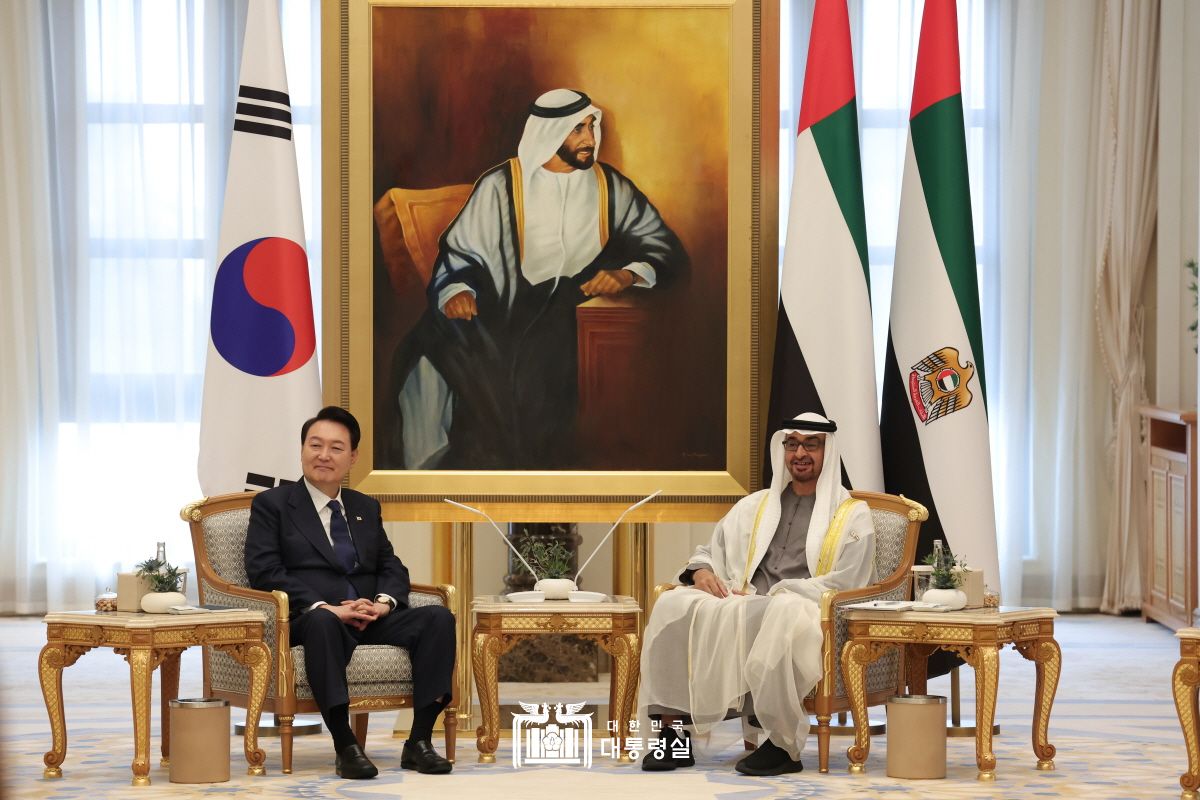 By Xu Aiying
Photos = Office of the President
The United Arab Emirates (UAE) has pledged investment of USD 30 billion (KRW 37.26 trillion) in Korea, the Office of the President in Seoul said on Jan. 15.

Senior Secretary to the President for Public Relations Kim Eun-hye in a written briefing said, "The investment was decided during a summit between President Yoon Suk Yeol and UAE President Mohammed bin Zayed Al Nahyan."

President Mohammed was quoted as saying, "We have decided on the investment of USD 30 billion based on the trustworthiness of Korea, a nation that keeps its promises no matter the situation," adding "This state visit by President Yoon will become a historic opportunity for bilateral relations."

President Yoon responded by saying, "As president, I will look carefully after this investment so that it plays a big role in not only return on investment but also the UAE's mid- to long-term sustainable development," adding, "I will not forget your trust."

During this summit, the two leaders attended the signings of 13 bilateral memorandums of understanding in nuclear power, energy, investment, the defense industry and climate change.

At their talks hosted by the presidential palace in Abu Dhabi, both presidents also agreed to develop their nations' "special strategic partnership" to the highest level.

President Yoon said, "I am delighted to visit the UAE on my first overseas tour of 2023 to hold a summit with President Mohammed," adding, "This first state visit since the inception of diplomatic ties in 1980 shows the strong commitment of both countries to develop bilateral relations."
"I expect this summit to serve as an important starting point for the elevation of the 'special strategic partnership' between Korea and the UAE to the highest level by strengthening strategic cooperation in the four core cooperative sectors of nuclear power, energy, investment and defense, as well as future cooperative fields like new industries; health and medical care; and cultural and human exchanges."
President Mohammed actively expressed his agreement, saying he strongly hopes to expand his nation's partnership with Korea. He also said the UAE is prepared for groundbreaking expansion of cooperation with Korea in every sector including the peaceful use of nuclear power; new and renewable energy sources; hydrogen; defense technology; climate change; space; digital transformation; high-tech infrastructure; smart agriculture; food security; and water resources.
President Yoon is the first world leader to pay a state visit to the UAE since President Mohammed was inaugurated in May last year. President Mohammed greeted his Korean counterpart with an official welcoming ceremony on a large scale that included an air show before their summit, signifying the UAE's highest honor for the Korean leader.