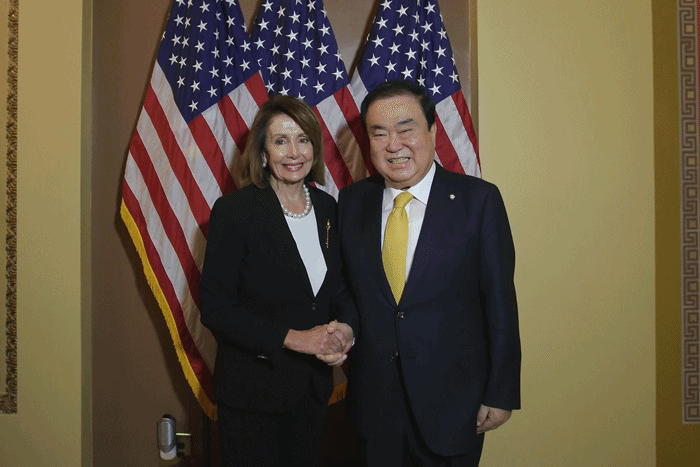 By Park Hye Ri and Kim Minji
Photos = The National Assembly of the Republic of Korea
U.S. Speaker of the House Nancy Pelosi on Feb. 12 expressed support for Korea's push to get justice for Korean women forced to serve as sex slaves for the Japanese military before and during World War II.
In a meeting with Korean National Assembly Speaker Moon Hee-sang on Capitol Hill in Washington, she said, "We are aware of the fact that the victims' rights have been infringed. We will help and support their efforts in resolving the issue."
Moon also highlighted the significance of the upcoming second North Korea-U.S. summit, saying, "Without the South Korea-U.S. alliance, the Korean Peninsula cannot achieve peace, stability and prosperity."
"The alliance with the U.S. will have to be enhanced for a complete and permanent peace on the Korean Peninsula. The alliance is important not only for Northeast Asia but also for world peace."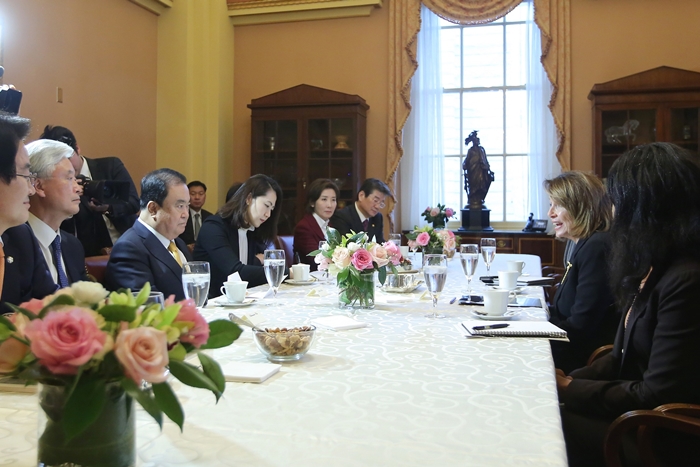 They discussed the opinions of both countries on the peace process involving the Korean Peninsula in the closed meeting, with Pelosi saying, "The positive views gave me great inspiration."
On Feb. 10, Moon and the leaders of major political parties in Korea arrived in the U.S. for a seven-day visit to reaffirm the Seoul-Washington alliance and promote peace on the peninsula.
The next day, Moon and the party heads held talks with U.S. Deputy Secretary of State John Sullivan and U.S. Special Representative for North Korea Stephen Biegun, who recently returned from Pyeongyang after discussing preparation for the upcoming North Korea-U.S. summit.