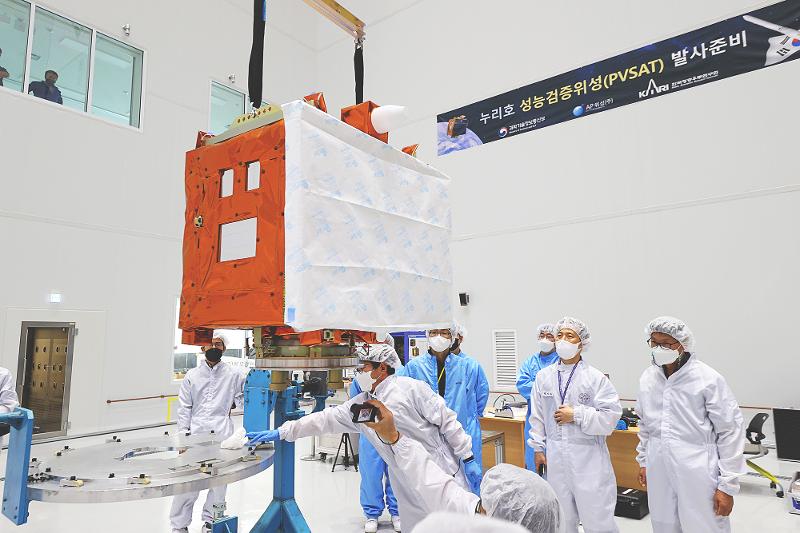 By Xu Aiying and Kim Hayeon
Video = Korea Aerospace Research Institute's official YouTube channel
Separated from the performance verification satellite that was carried into space by the Korea Space Launch Vehicle-II (KSLV-Ⅱ), aka Nuri, cube (small) satellites developed by research teams at the Korea Advanced Institute of Science and Technology (KAIST) and Seoul National University (SNU) have conducted two-way communication with their respective ground stations.
This indicates that the satellites are properly functioning given their ability to exchange orders.
The Ministry of Science and ICT on July 4 said SNU's satellite Snuglite-II at 3:21 p.m. conducted two-way communication.
At 3:21 a.m., the SNU team transmitted a signal to its satellite to unfold the antenna.
Snuglite-II complied and sent back a signal indicating its status, succeeding in two-way communication.
This satellite conducts precision studies of Earth's atmosphere using carrier signals from the Global Positioning System (GPS).
Earlier on July 3 at 4:10 p.m., the KAIST-developed cube satellite Randev also had two-way communication with its ground station.
On the same day around 2 a.m. and 2:40 p.m., KAIST's ground station ordered its satellite to change the state of its power supply channel and change the system mode from standby to antenna deployment.
At 4:10 p.m., the station confirmed that the satellite analyzed the signal and completed its given mission.
A small satellite measuring 10 cm wide, 10 cm long and 30 cm tall and weighing 3.2 kg, Randev is designed to conduct terrestrial imaging with a small observation camera and transmit the images to the ground station.
xuaiy@korea.kr