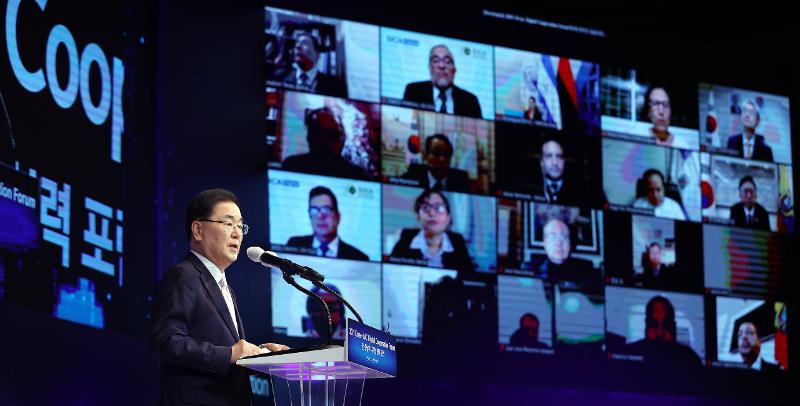 By Yoon Sojung
Photos = Jeon Han
Seoul | March 17, 2021
An international forum in Seoul has proposed bolstering digital cooperation between Korea and Central and South American countries.
The 2021 Korea-LAC (Latin America and the Caribbean) Digital Cooperation Forum, held from March 17-18 at Lotte Hotel Seoul, was jointly hosted by the Korean Ministry of Foreign Affairs and the Ministry of Science and ICT.
Under the theme "Partnership toward Digital Innovation and Inclusiveness," the forum was attended by eight high profile officials, including ministers and vice ministers, from five Latin American countries: Costa Rica, Guatemala, Brazil, Colombia and Honduras. Experts and other high-ranking officers in digitalization from the region also took part via videoconferencing.
The forum discussed cooperation in areas such as 5G networks, digital government, cyber security, smart city and smart farms. Participants called Korea the best partner to work with in such collaboration.
The forum was the first high-level international gathering in the digital sector since Seoul announced the Korean New Deal last year.
At the forum's opening ceremony, Minister of Foreign Affairs Chung Eui-yong said, "Korea and Latin America are creating a new cooperation paradigm centered on the Fourth Industrial Revolution, 5G, digital government and artificial intelligence."
"We wish to pursue win-win cooperation though Korea's Digital New Deal policy and the digital transformation policy of Latin American countries. Our government also wants to share its pursued values of innovation and inclusiveness with other Latin American nations."
Minister Chung added that the Korean government will send a public-private delegation on e-government and information and communications technology to search for opportunities in customized cooperation projects with Latin America and share Korea's experience and benchmarks in digital transformation to narrow the digital divide.
Minister of Science and ICT Choi Kiyoung also introduced the Digital New Deal, one of the two pillars of the Korean New Deal. "Through the Digital New Deal, Korea is focusing on strengthening the digital ecosystem's DNA and boosting national competitiveness by building early a non-contact system in major sectors like education and social overhead capital."
"Through this forum, Korea will bolster solidarity with its Latin American partners," he said. "Based on our win-win experiences, let us seek higher-level cooperation measures to effectively respond to the Fourth Industrial Revolution."
Costa Rican Minister of Foreign Affairs and Worship Rodolfo Solano Quiros said, "Korea is a world leader and a model country in digitalization of the economy and public service."
"Strengthened cooperation between Korea and Latin America will help narrow the global economic divide and the service gap in technology, medicine, and health and medical services among countries."
"Costa Rica hopes to follow Korea's example by narrowing the digital divide through policies such as building infrastructure for information and communications," he added. "By bolstering digitalization capability, we can overcome the waves of the Fourth Industrial Revolution and COVID-19 and recover."
In the forum's first session, "KOR-LAC Cooperation on Digital Transformation for Building Back Better and Preparing for the Future," Minister Solano said, "Latin American countries are effectively overcoming difficulties in the process of digital development by sharing their digital experiences with Korea."
In the same session, Colombian Vice Minister of Creativity and Orange Economy Adriana Padilla Leal introduced her country's "orange economy" (cultural and creative goods and services) initiative to overcome the pandemic and boost the country's digital competitiveness.
Mentioning the four Oscars won last year by the Korean film "Parasite" as a benchmark, she said, "The orange economy focuses on promoting culture and creativity, helps artists and creators realize their various ideas, and extends the development of human resources and technology."
"We wish to cooperate with Korea in creative content sectors like film through diverse ways such as corporate joint ventures and signing an agreement in creative technology for digital transformation."
Participants on the forum's second day on March 18 discussed cooperation in cyber security, smart city and smart farms.
Livestreaming of the forum is available on the website k-lacdcf.or.kr.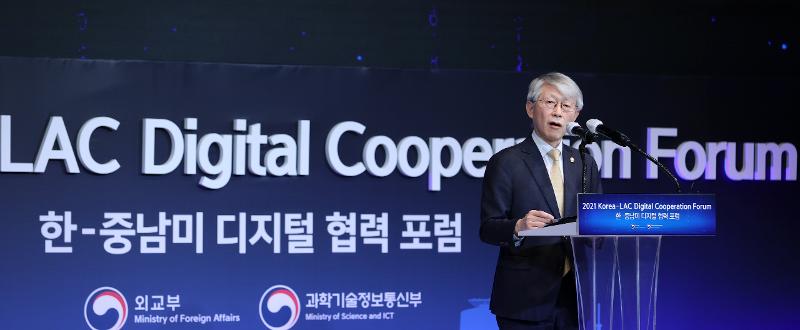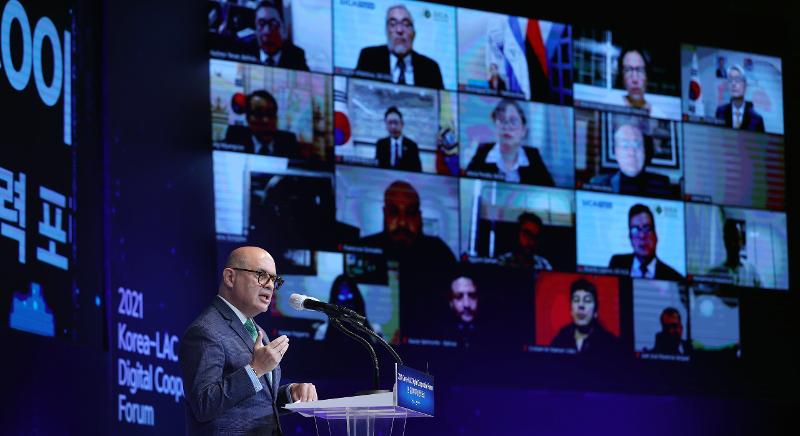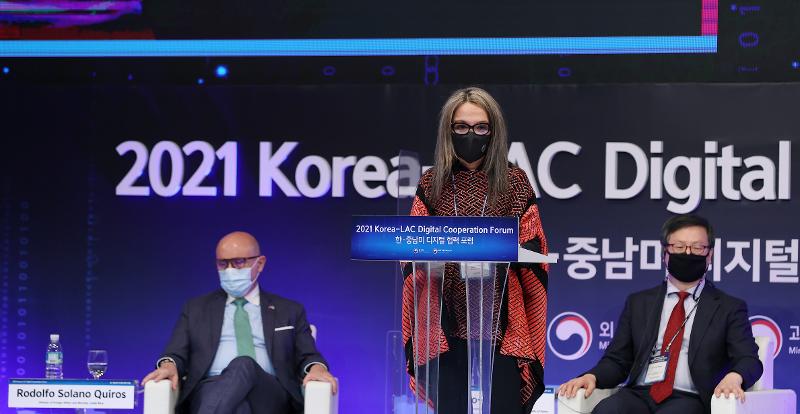 arete@korea.kr