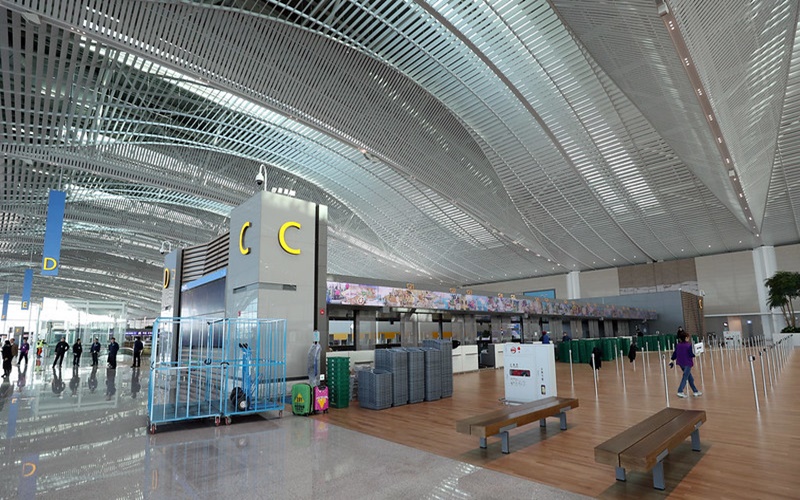 By Kim Yeojin and Yoon Sojung
Incheon International Airport Corp. on March 29 hosted an event to celebrate the airport's 20th anniversary at Millennium Hall of Terminal 1 and announce its "2030+ New Vision."
The vision contains the corporation's goals to build a people-centered airport that creates new life values, make an elegant airport that is more than a hub through a cultural network, and take a big step toward transforming itself into a future-centered airport that takes on new areas and innovates toward creating a new paradigm.
With a four-phase expansion project scheduled for completion by 2024, the corporation plans to increase the number of annual flights from 500,000 to 600,000, raise the yearly passenger tally from 71 million to 106 million and boost the volume of cargo from five million tons to 6.3 million tons per year.
The number of airport workers will also be increased from 80,000 to 200,000 by 2030.
Open on March 29, 2001, as the country's main air hub, the airport connects Korea to 73 countries through 255 routes. As of 2019, it ranked third worldwide in international cargo volume and fifth in the annual number of passengers.
The Airport Service Quality program of Airports International Council also named the Incheon airport the world's best for 12 consecutive years from 2005-16.
Based on such recognition, the airport has received 30 project orders from 15 countries worth a combined USD 230 million including the consigned operation of Terminal 4 at Kuwait International Airport Terminal in Farwaniya, Kuwait and the development and management of Hang Nadim International Airport in Batam, Indonesia.