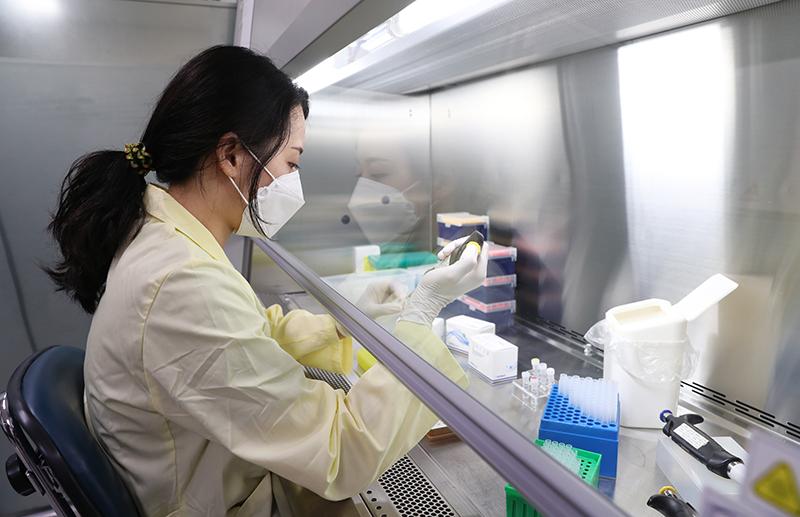 By Kim Minji and Lee Jihae
Photos = Kim Sunjoo
Global pharmaceutical companies are engaged in heated competition in molecular diagnosis, striving to use genetic information to confirm infection or disease. Before the COVID-19 pandemic, Switzerland's Roche held 24.9% of the global share of this market and Germany's Siemens 12.3%, with Korea having only 1%.
COVID-19 has brought seismic change to the molecular diagnosis market. As Korean know-how in containing the coronavirus has gained the global spotlight, domestic makers of test kits have gone from unknown to globally famous.
The Ministry of Food and Drug Safety on July 9 said ten domestic companies including Seegene and SolGent attained approval for the immediate use of their test kits by the U.S. Food and Drug Administration.
SolGent on April 8 became the first Korean company to be designated by the U.S. Federal Emergency Management Agency as a stockpile procurement company. SolGent has since exported KRW 3.9 billion worth of test kits, thus this contract alone accounted for about two-thirds of the company's sales last year of KRW 6 billion.
The Korean biomedical industry predicts that the company's sales this year will exceed KRW 200 billion, a record annual surge of 3,000%.
Success in 100% localization… SolGent's tech proven
SolGent is outshining its competitors in attention after localizing the production of the raw materials used in its test kits. It is the only Korean company able to produce all three core enzymes in kits, including the enzyme that proliferates RNA.
Another Korean company, Seegene, is the nation's leader in molecular diagnosis but imports about half of its raw materials, including a reagent that extracts nucleic acid.
SolGent has also achieved localization of tubes used in test kits, having previously imported the tubes mainly from Germany and China. Along with other Korean companies such as Noble Bio, SolGent optimized and made the tubes suitable for test kits, adding that its competitiveness soared after becoming the nation's sole maker of test kits.
At her company's factory in Daejeon, Cha Mee-jeong, SolGent's manager for production service, said, "Directly producing the main enzyme can ramp up the product's performance depending on the mixed ratio of enzymes."
"The biggest advantage of SolGent test kits by far is their extremely high rates of sensitivity and accuracy."
Mass production thanks to government and Samsung
SolGent is a small and medium enterprise (SME) with 60 staff that was founded in August 2000. A Chinese partner company last year in December asked SolGent to jointly make test kits after an outbreak of viral pneumonia in Wuhan, China, with causes unknown at the time. This was the start of SolGent's development of such kits.
The company's R&D team worked around the clock to develop test kits. Its efforts paid off as the Korea Centers for Disease Control and Prevention on Feb. 27 approved the immediate use of SolGent kits and Europe did the same on Feb. 28.
Though SolGent succeeded in developing test kits, it was ill-equipped to handle mass production. All manufacturing processes were done by hand, which also lowered the test kits' accuracy. The company said support from the government and domestic corporations enabled it to make large-scale exports.
With the support from the "smart factory support center" of Samsung Electronics and the Ministry of SMEs and Startups, SolGent adopted an automated conveyor system that halved the time needed to wrap 500 test kits from two hours to one and automation for each manufacturing process.
Attaching labels, manufacturing containers, wrapping and conducting other processes used to take a long time because they were done manually, but automation boosted productivity 73%. SolGent thus went from making about 3,000 test kits per week in March to 15,000 per week in May.
SolGent CEO Yoo Jae-hyung said, "We will prepare for the post-COVID-19 era by preparing to supply overseas markets with test kits for various diseases including pneumonia, tuberculosis and dengue."
"Our dream is to expand smart factories capable of mass production to become the world's top company for molecular diagnosis."