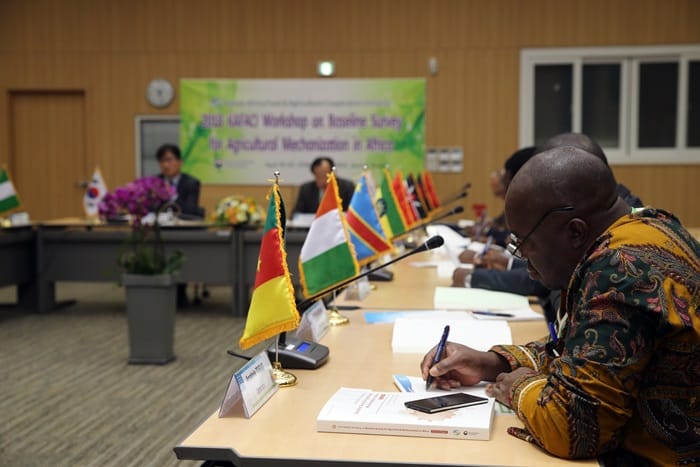 By Lee Yoonseo and Sohn JiAe 
Korea will share its knowhow on agricultural mechanization with 18 growing African economies.
The Rural Development Administration (RDA) has kicked off a workshop for members of the Korea-Africa Food & Agriculture Cooperation Initiative (KAFACI) in Jeonju and elsewhere in Jeollabuk-do Province.
The RDA program, which runs until April 20, aims to enhance farming capabilities among African agricultural experts and to share information between Seoul and African governments.
Throughout the five-day program, participants from 18 KAFACI members will give presentations about the state of farming mechanization in their countries, while attending a lecture about the process of mechanizing the agricultural industry that Zimbabwe has seen over recent years. There will also be lectures about successful examples from here in Korea.
There'll be an opportunity to talk about technologies required to tailor mechanization programs to social or economic conditions in their respective economies, and how to come up with ways to further develop farming industries.
The RDA will take the attendees to a business in Gimje that leases farming machines and equipment, and, also, to a factory in Iksan that manufactures agricultural machinery.
Angela Msipha from Zimbabwe, one of the participants, said, "I've got a better understanding now of Korea's agricultural development, which mechanization has made possible over the past many years. It's a valuable opportunity to get some ideas about mechanization in agriculture that can be applied back home."
"These programs will help to upgrade agricultural productivity across African economies by promoting the mechanization of farming," said Director Lee Ji-won from the RDA technology cooperation bureau.