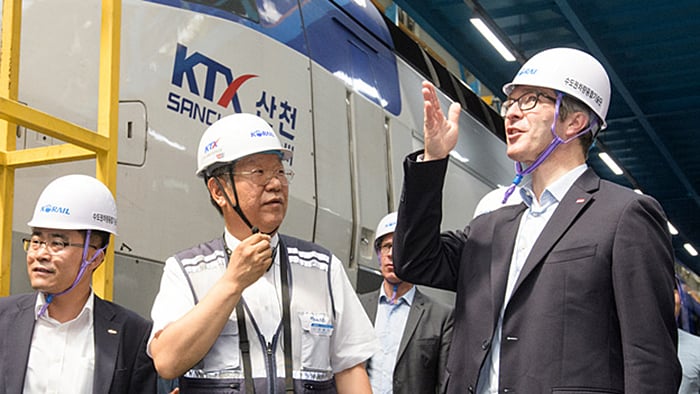 By Cho A-la and Lee Hana
Photos = Korail
Last week, the French National Railway Company (SNCF) paid a visit to Korea to exchange technological expertise with the Korean Railroad Corporation (Korail).
In 1993, SNCF shared its TGV high-speed train technology with Korail. The Korean company took this body of knowledge and created its own brand of KTX express trains specifically designed for Korea's topography and climate. Service began on April 1, 2004. In 2012, Korail added the KTX-Sancheon rolling stock to its high-speed rail network, a new generation of KTX trains that cover a larger area of the Korean Peninsula.
Twenty-four years after the first exchange, SNCF has now returned to Korea, this time to survey Korail's KTX express trains and other innovations, from July 24 to 26.
SNCF Director General Xavier Ouin and three SNCF technicians were introduced to some of the latest KTX express train technology, including monitoring systems based on the Internet of Things (IoT) and support networks that aide train connection.
After taking a look at the KTX-Sancheon rolling stock, a modified version of a standard high-speed train that was launched in 2012, Director General Ouin said, "Through this visit, I noticed that Korail and SNCF are conducting research in many similar areas, including maintenance repair systems based on IoT, as well as train operation security measures."
"I was able to come across many interesting ideas, like the connection systems for high-speed trains, and navigation tools for engineers. Overall, it was a very worthwhile trip," he said.