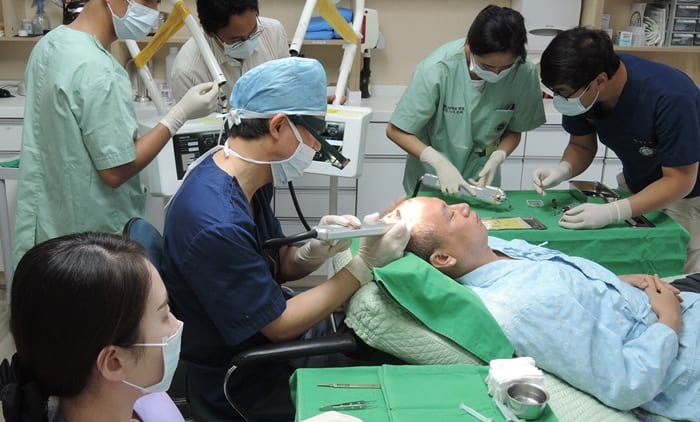 By Kim Tae Won and Kim Young Shin 
Everywhere in the world there are people who have hair loss. One group of Korean scientists is expected to release onto the market its hair transplantation machine in 2 to 3 years to lift any anxiety that those people might feel about their inherited hair style.
The Electronics and Telecommunications Research Institute (ETRI) announced on May 11 that it has developed a hair transplantation machine that can automatically implant 1,000 strands of hair per hour, and that it's now in clinical trials.
According to the ETRI, the device can sequentially conduct the transplantation of 20 hair follicles at a time, which greatly shortens the time of treatment. It significantly reduces the fatigue of the surgeon and the recipient, too. An ETRI researcher said that the core of this technology is the mechanism of needles that implant hair follicles into the scalp and the synchronization of the needles' movement.
The machine got approval from the Ministry of Food and Drug Safety in July 2016. It's currently undergoing clinical trials to get feedback from surgeons for further improvement.
"Because the device is going to be used on actual humans, we're taking a calm and cautious approach. We will get the results in a few years," said an official from the ETRI.