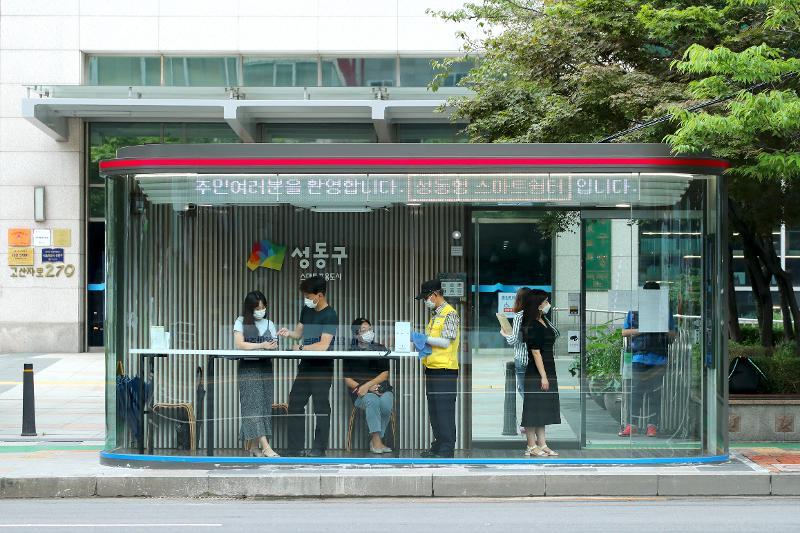 By Lee Jihae
Cutting-edge "bus shelters" in Seoul's Seongdong-gu District, venues that received foreign media coverage including from CNN after their launch in August last year, has eclipsed 1.2 million users.
Seongdong-gu District Office on Sept. 6 said the number of such shelters in the district rose to 28 from 10 last year, with the cumulative number of users reaching 1,245,043 as of Aug. 31.
The shelters are futuristic bus stations that utilize the internet of things and information and communications technology.
Their exterior has a film coating on the glass to prevent the sun's heat from penetrating the interior. Pinwheels also facilitate air circulation inside to maximize cooling and heating efficiency, and sanitization functions use ultraviolet rays. The facility also purifies air by removing fine dust particles.
Twelve foreign media outlets including The Associated Press, CNN and Newsweek of the U.S. and Reuters and The Guardian of the U.K. have covered the shelters.
"New bus stops in South Korea are making us wonder if we're living in a sci-fi society without even realizing it," Newsweek said on Aug. 20 last year.
Reuters on Aug. 14 last year said, "Designed to combat summer heat, monsoon rain and the coronavirus, the smart bus shelter has arrived on the streets of the South Korean capital."
jihlee08@korea.kr