By Oh Hyun Woo and Kim Hwaya
Photos = Kim Sunjoo 
Video = Choi Tae-soon 
Seoul | May 14, 2019
A middle school student from Japan, a worker from Nepal, a production assistant for Korean entertainment shows from China.
People who seemingly have nothing in common on May 14 gathered at Crown Concert Hall of Kyung Hee University in Seoul to compete in the 22nd World Korean Language Speech Contest for Foreigners.
Launched in 1988 to mark the 600th birthday of King Sejong the Great, the competition was co-hosted by the university and Yonhap News.
The 16 finalists, hailing from 13 countries, presented speeches in Korean on the topics "Why Korea is special to me" and "The path of peace, living together in the world." They showed wider diversity from those in last year's contest, especially in nationality and age group.
The youngest contestant, middle schooler Kurata Yotsuha of Japan, drew applause as she went on stage. She said she better understood relations between both countries after entering junior high school, saying, "I used to think Koreans hated Japanese before I got to really know Korea."
In a follow-up interview, she added, "I want to promote Korea to Japan as well as Japan to Korea."
Another finalist was a Nepalese who came to Korea to earn money. Gautam Kamal, who works for an electronics company, said he hopes to let Nepal know the Korean model of rapid economic growth.
Yu Yanting, a Chinese national who is a production assistant at a Korean broadcast network, said Korean entertainment programs helped her find her dream. "Though historical content can be painful and grave, Korean entertainment programs present such content in both engaging and heartwarming ways. Korean programs like these inspired me to study in Korea."
Earning a master's in history from a Korean university, she added, "My dream is to produce a program on the history of Korea and China."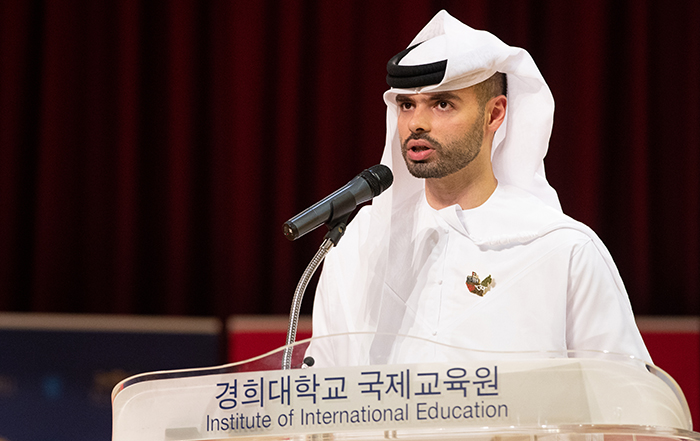 Ali Al Khawajah from the United Arab Emirates (UAE) said, "I wish to write a Korean-language book on Arab culture," adding, "I also want to spread Korea's beautiful culture to the UAE people."
Despite the wider diversity of contestants in this year's event, those who study Korean full time stood out. The grand prize went to a Japanese student at Yonsei University in Seoul, Aki Fukushima.
Her speeches were about ssam, or the Korean culinary practice of wrapping food in lettuce while adding ingredients like kimchi and rice. She said this practice correlates with the Korean concept of jeong, or a kind of affection that embodies the amiability and hospitality of Koreans.
Hong Yun-ki, dean of the university's Institute of International Education that co-hosted the contest, said, "Many people were able to watch the contest this year thanks to internet broadcasting," adding, "We'll strive to make this contest a festival for students of the Korean language abroad."