Gwanak-gu District sits in southern Seoul, and some 510,000 people live in the district. Its average measure of "financial independence," a statistic used to measure wealth and income, was only 20.7% in 2016, which ranks as 22nd among Seoul's 25 districts. The borough, in other words, is stereotypical of a residential area with no productive infrastructure, except the nation's biggest national university, Seoul National University. Residents' income levels aren't high either, and population segments like social security beneficiaries, multicultural families and the elderly make up more than 10 percent of the district's population.
In spite of this, however, one out of five residents in the district participates in volunteer work, and the number of volunteers registered in the district sits at around 98,000, with 1,600 "outstanding volunteers," and the 255 "good neighborhood shops" across the area provide discounts for those "outstanding volunteers." It's a borough of volunteers.
"Immediately increasing the residents' income might not be easy, but improving their quality of life is possible," said Gwanak-gu District Mayor Yoo Jong-pil. The district mayor, who has led projects like "knowledge welfare" and "a library within 10 minutes " projects that have gained attention from governments all around the world, encourages his borough to be a city of volunteers and voluntary services, as his district has little infrastructure or industrial facilities. Gwanak-gu District now deals with high demand for welfare with its voluntary services. The district government calls the services its "365 voluntary services." The name is inspired by the fact that the human body has an average temperature of around 36.5 degrees Celsius.
As a first step, experts from the private sector were assigned to the district's volunteer centers, aiming for expertise, connectivity and autonomy. More skilled staff were assigned, and new volunteer centers were opened at the old district office, easy to access to most neighborhoods in the borough. A cooperative network was built between service demands and volunteer groups to form a dense social security net. The volunteer camps run at the district's 21 neighborhood community centers help to diversify and specify volunteer services.
The "specific volunteer programs by age," such as volunteer work for teenagers, the welfare village foreman system, and the bedside children's book project, encourage a broader range of residents, from teenagers to the elderly, to volunteer their time.
Gwanak-gu District has the third largest number of multicultural families among Seoul's 25 districts, following Yeongdeungpo-gu and Geumcheon-gu. It is home to 7,300 multicultural families, including 1,800 families that include an officially registered marriage immigrant. Since the district's non-Korean residents tend to be new migrants to Seoul, the district has developed a range of volunteer services, including free Korean language classes, Korean cooking classes and translation services. Childcare services are provided for immigrant parents so that they can attend the classes. Reading Korean folktales to children of families with non-Korean members at their homes is one of the district's most well-reviewed services.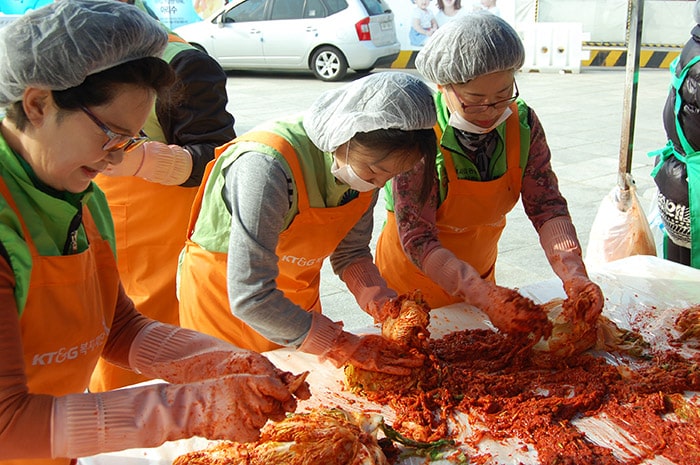 The volunteers are not bound by nationality or race. Some of the immigrants provide educational sessions for Korean students about their mother country's history or culture. There's also a volunteer group of ethnic Korean Chinese citizens called Xingfu, which means "happiness." They volunteer to be night guards in cooperation with local police substations, calling Gwanak-gu their second home.
"The volunteers and the value of their services should be better acknowledged," says the district mayor, and he actually turned his words into action by expanding the reward and recognition system for volunteers. Under the conceptual idea of "36.5," from the average temperature of the human body in degrees Celsius, volunteers who work more than 36.5 hours are designated as "outstanding volunteers" and can enjoy certain discounts and rewards. They can get discounts on public parking spaces and resident-priority parking spaces, too, as well as discounts on classes or fees at the Gwanak Cultural Center and Library, at the Smiling Education Center and at the Gwanak-gu Community Sports Complex.
The range of "Good Neighborhood Shops" across the district, ranging from restaurants and hair saloons to big hospitals, traditional medical clinics, dental offices, wedding halls and even hardware shops, also provide discounts to the "outstanding volunteers." For the "good neighborhood" businesses, financial benefits are available, too. Through an MOU signed between Woori Bank and the district office, a "good neighborhood shop" business owner can get a loan of up to KRW 300 million at beneficial interest rates. Fees for ATM machines and electronic transactions are also not charged.
"My friends and I who are dreaming to be teachers feel proud when we participate in volunteer activities for children," says a student from Namkang High School. The high school is designated as a "volunteer work practice school."
The district created a volunteer program for teenagers, too, to be redesigned as a programs in which teenage volunteers themselves "voluntarily" participate. The district designated "volunteer work practice schools" and encouraged the students to develop ideas about volunteering. An "educational group for volunteer services" of would-be volunteers covers everything from giving foot massages and dying hair through to organizing storage skills, depending on each volunteer's individual situation. The district also runs a program that helps groups that want to participate in volunteer work but don't know where to start, and runs the city's first lifelong education program for volunteer services for retired baby boomers.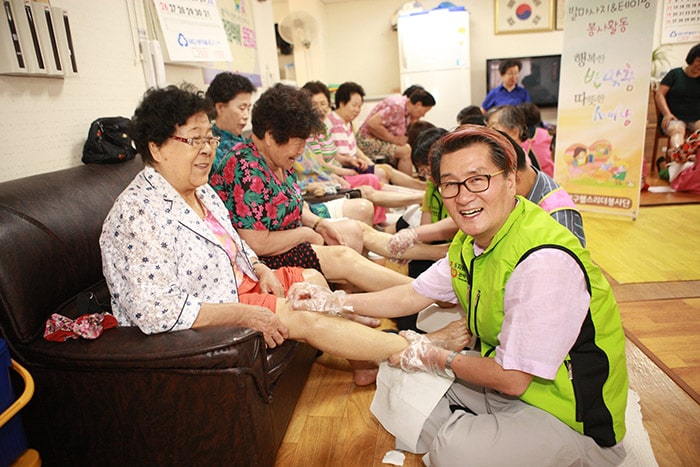 The district also developed volunteer programs in collaboration with Seoul National University, such as a mentoring program, an activity program for children with development disorders and a basketball program for children with intellectual disabilities.
The district government's works and achievements have been recognized all around the country, too. The district was awarded an Interior Minister award as part of the "2015 Korea Volunteer Award," and was named in the "public sharing" section at the Korea social voluntary award. The district's volunteer system, presented under the title "a voluntary heaven where one out of five residents participate in voluntary works," won a top award at the "2016 Nationwide Local Government Mayor Best Manifesto Competition," too.
By Wi Tack-whan, Chang Iou-chung
Korea.net Staff Writers
Photos: Gwanak-gu District
[email protected]