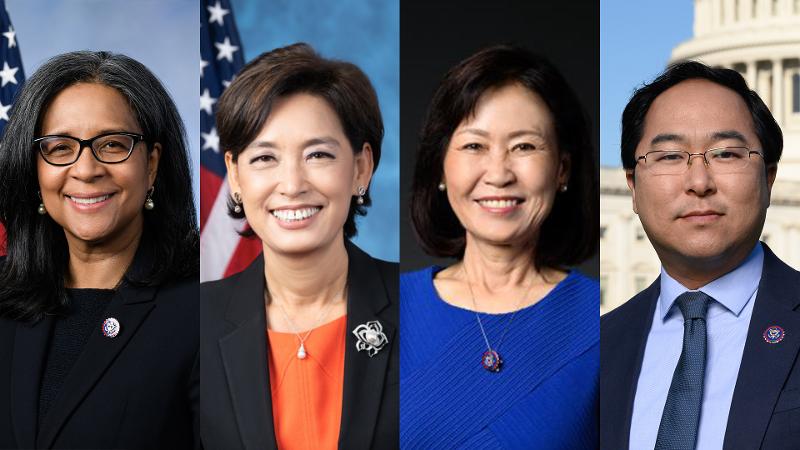 By Kim Hayeon
All four Korean American politicians who ran for Congress in the U.S. midterm elections on Nov. 8 won their respective races.
Along with Rep. Andy Kim (Democrat-New Jersey) and newly elected legislators Marilyn Strickland (Democrat-Washington) and Young Kim (Republican-California), Michelle Steel (Republican-California) confirmed her victory on Nov. 15 as a first-term legislator.
With 78% of the votes counted, Steel (53.8%) comfortably defeated her Democratic opponent Jay Chen (46.2%) in California's 45th congressional district despite the latter being considered a Democratic stronghold.
Born in Seoul in 1955, Steel immigrated to the U.S. with her family in 1976. She said she entered politics after seeing how the livelihoods of Korean Americans in Los Angeles were destroyed in the 1992 riots.
"I am humbled to continue to fight for this community in Congress. Thank you to the voters of #CA45 for putting your trust in me. Let's get to work," Steel tweeted after her win.
Rep. Andy Kim is the first Korean American to earn a third congressional term in 26 years.
Gaining 55% of the votes, he easily beat his Republican opponent Bob Healy (44.2%) in New Jersey's third congressional district, with 89% of the votes counted.
Born in Boston in 1982, Andy Kim won his first term in Congress in 2018 by beating the Republican incumbent Tom MacArthur and earned reelection in 2020 by a sizable margin.
In his victory speech, the Korean American said, "I can't wait to wake up my kids up tomorrow morning," adding, "And be able to tell my five and seven-year-olds that their daddy did it. That we won this district."
Rep. Marilyn Strickland, also known by her Korean name Sun-ja, has stressed her status as the first female Black member of Congress of Korean ancestry since representing Washington throughout her political career.
A Democrat, Strickland (56.8%) easily beat her Republican competitor Keith Swank (43.2%) to win her state's 10th congressional district, with 94% of the votes counted.
Born to a Korean mother and an American soldier in September 1962 in Seoul, Strickland moved to the U.S. at age 1 after her dad was transferred to a military facility in Fort Lee, Virginia.
She captured media attention in January last year by wearing a Hanbok (traditional Korean attire) to the inauguration of U.S. President Joe Biden Capitol at the U.S. Capitol in Washington. After winning election last week, Strickland tweeted, "I'm so honored to be the South Sound's voice in Congress and to continue serving our region."
Rep. Young Kim worked for over 20 years as an aide to longtime congressman Ed Royce, who has close ties with Korea, before starting her political career.
She easily beat her Democratic challenger Asif Mahmood 58.5% to 41.5%, with 63% of the votes counted.
With the birth name Choi Young Oak, she was born in 1962 in Incheon and immigrated to the U.S. with her family in 1975.
Young Kim served on the California State Assembly in 2014 but lost in the congressional elections of 2016 and 2018.
In 2020, she was reelected to California's 39th congressional district and won this time in the 40th due to realignment of voting districts.
After her victory, she tweeted, "I will fight every day to be your commonsense voice in Congress, break through the partisan gridlock and deliver results for #CA40."
hayeounk8@korea.kr