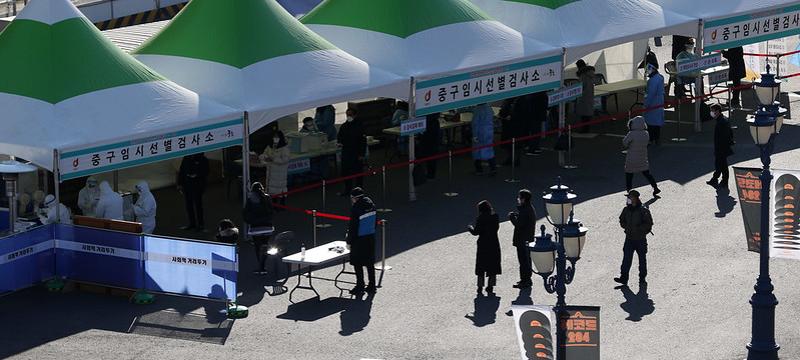 By Lee Jihae
The British daily Guardian has analyzed why Korea and other countries with relatively fewer COVID-19 infections like Australia, New Zealand and Taiwan are starting vaccinations later than other countries.
In a Jan. 8 article, the newspaper called Korea and other quarantine-exemplary countries "shining examples of coronavirus management," saying, "The millions of people already being vaccinated against Covid-19 will provide valuable data to those countries who have – for various reasons – decided to wait for more information about the vaccine."
With the number of COVID-19 cases relatively low in Korea, New Zealand and Australia, the daily said these countries, which have exemplary health care systems, will intentionally delay jabbing their people until the end of next month or later.
The Guardian said health authorities are getting information from those who have been vaccinated. On Jan. 6, the U.S. Centers for Disease Control and Prevention published data on allergic reactions to the Pfizer/BioNtech mRNA vaccine observed in America from Dec. 14-23.
The report said the data will prove useful to countries such as Korea. The country has ordered enough vaccines to inoculate all 52 million of its people but is deliberately delaying mass vaccination while observing potential side effects elsewhere, the report said.
Jennifer Martin, a professor of clinical pharmacology at the University of Newcastle of Australia, was quoted as saying, "The reason it's such a prolonged approval process in Australia and New Zealand is because there is lots of double checking and reexamining of the statistics."
"Australia and New Zealand are saying: 'Why would you put people at risk when if you wait a bit longer, you can get more information?'"
The Guardian said certain countries such as the U.S. have expedited the vaccination process because of "the severity of their situations."
Martin said the dire status of such nations make them "just so unbelievably grateful to be among the first" to be vaccinated, adding, "These people are helping us to get data, in the same way as any patient that's in a clinical trial, and that's really going to benefit everyone."
The U.S. on Jan. 6 suffered 3,900 coronavirus-related deaths, while the U.K.'s death toll the day after reached 1,162.
Korea, on the other hand, had 674 new COVID-19 cases on Jan. 7, a figure that dropped to 451 three days later.