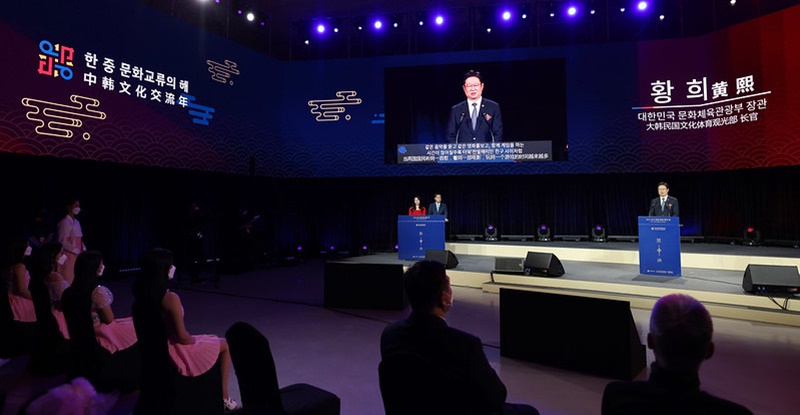 By Kim Yeojin and Kim Hayeon
Photos = Ministry of Culture, Sports and Tourism, Heo Man Jin
Korea and China have launched a new initiative in cultural exchange a year before the 30th anniversary of bilateral ties.
The Ministry of Culture, Sports and Tourism and the Chinese Ministry of Culture and Tourism on Sept. 15 cohosted the launching ceremony for the "Korea-China Cultural Exchange Year"(2021-22) at Seoul's Dongdaemun Design Plaza.
Earlier in January, the leaders of both countries declared the program to facilitate cultural exchange and cooperation ahead of next year's 30th anniversary of bilateral ties.
The ceremony marked the launch of a push toward successful cultural exchange.
On the occasion of the forthcoming visit to Korea by Chinese State Councilor and Minister of Foreign Affairs Wang Yi, the foreign ministries of both countries held a meeting of a bilateral committee to promote human and cultural exchanges and agreed on 169 projects for the exchange year.
Under the official slogan (unofficial translation) "Friendship Shared through Culture, Partnership Opening the Future," the ceremony comprised two parts of congratulatory performances by artists from the two countries and a lighting event.
Minister of Culture, Sports and Tourism Hwang Hee said that since 1992, both sides have become partners for 30 years by cooperating in fields such as economy, diplomacy, culture and tourism.
Korea and China must continue to cooperate and communicate through the culture sector, which has grown into a high value industry, he added, as the cultures of both sides are the foundation of cooperation and exchange and a key driving force of recovery and development.
In his congratulatory video message, Chinese Communist Party Secretary of the Ministry of Culture and Tourism Hu Heping said the exchange year declared by the leaders of both nations reflects the common desire of people in both countries to expand bilateral exchanges and promote mutual understanding.
He added that despite the COVID-19 pandemic, both countries will successfully promote the exchange year by implementing key agreements between the two sides.