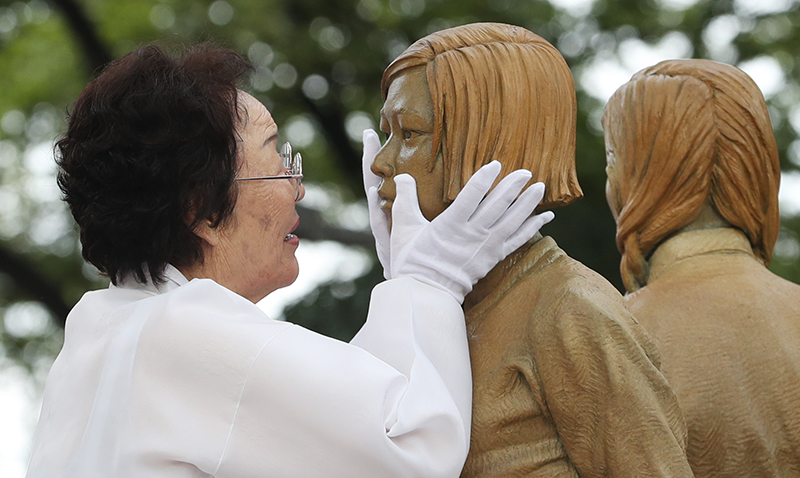 By Kim Young Deok and Lee Jihae 
Photos = Kim Sunjoo 
Seoul | Aug 14, 2019
Life-size statues of comfort woman Kim Hak-soon and two fellow victims, one from China and the other from the Philippines, looked at each other sadly; Kim was the first comfort woman to publicly talk about her plight in 1991.
Comfort women refer to victims of sexual slavery by the Japanese imperial army from the 1930s to 1945. The statues symbolize the public's connection to the late Kim, who passed away in 1997.
The statues were placed on Aug. 14 on the occasion of the seventh annual International Memorial Day for Comfort Women at the former site of Joseon Shingung in Seoul's Jung-gu District. Joseon Shingung was a national religious facility established by Japan during its annexation of the Korean Peninsula in the early 20th century to coerce Koreans to pay tribute at Japanese shrines. Both the date and the venue of the ceremony for unveiling the statue held historical meaning.
The public can reflect on the painful history brought on by Japan's colonial rule of the peninsula (1910-45) through the statues, which are meant to commemorate the pain and courage of the victims.
About 100 people including former comfort woman Lee Yong-soo, Mike Honda, a former U.S. congressman who led a resolution on the comfort women, and members of the foundation that donated the statues attended the ceremony. They all wore yellow butterfly badges to pay tribute to the sexual slaves.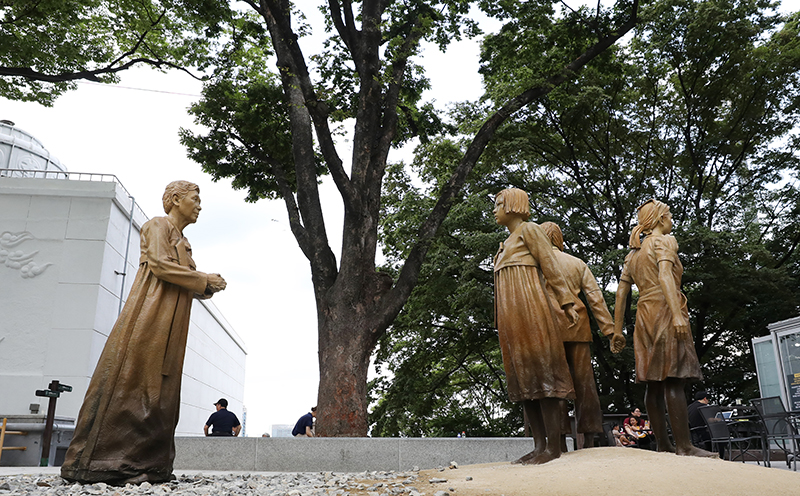 Lee, 92, gave a speech at the ceremony, saying, "I won't move down a step. I'll fight to the end to get an apology (from Japan)."
She ended her speech with "I can speak," a line symbolic of such victims who spoke publicly about their tragedies.
Honda reminded the audience of the late Kim, who initiated a solidarity group because she wanted to break the silence. He expressed hope that the ceremony would serve as a catalyst for similar events.
Lee stroked the face of one statue and reflected on the pain felt by her fellow comfort women. As she held the statue's hand, she said, "Thank you for providing this setting."
"Our late victims up in the sky will be watching over this."