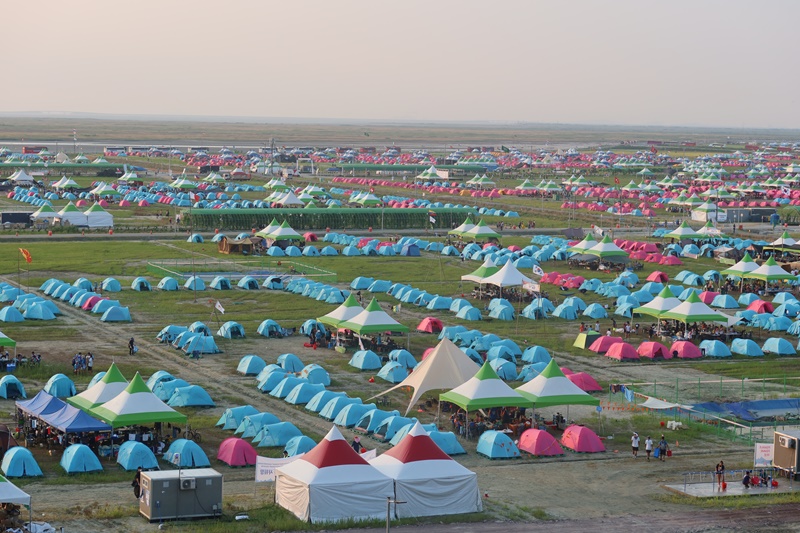 Buan-gun County, Jeollabuk-do Province
By Cao Thi Ha and Yoon Seungjin

The 25th World Scout Jamboree in Saemangeum, an estuarine tidal flat in Buan-gun County, Jeollabuk-do Province, on Aug. 5 bustled with laughter and camaraderie as scouts from all over the world bonded over introductions and simple questions like "Where are you from?"
Visiting scouts from 156 countries attending the Jamboree were having a great time sharing their cultures.

They found relief from the heat at vine tunnels, exchanged uniforms and badges, showed excitement, played ukuleles in front of the Brazilian scouts' tent and sang, each creating memories along their way despite scorching temperatures.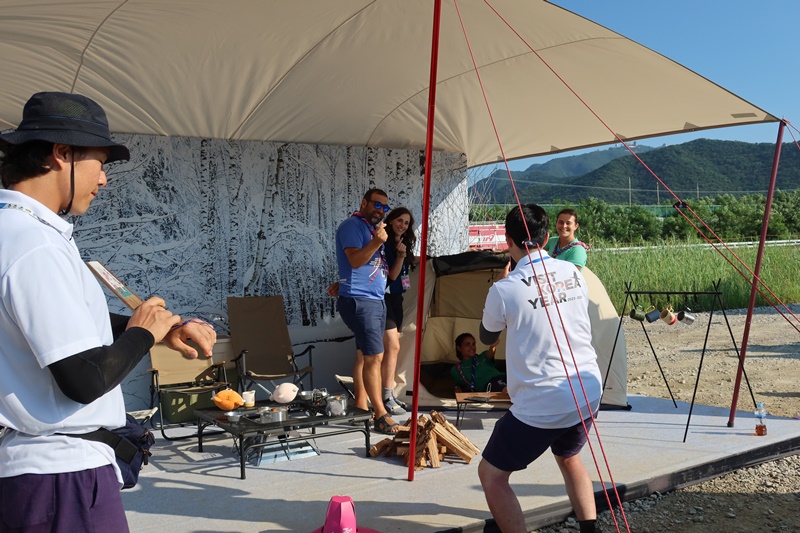 What stood out was how many scouts seemed to want to experience the culture of the host country Korea.

Many visited the Korea Tourism Promotion Center set up by the Ministry of Culture, Sports and Tourism and Korea Tourism Organization at the campsite's delta area to take photos and discuss domestic travel destinations while skimming through their guides. The coloring wall where people could draw or write on images of the country's tourist landmarks with the phrase "Color Your Korea" was filled with heartfelt messages from the scouts.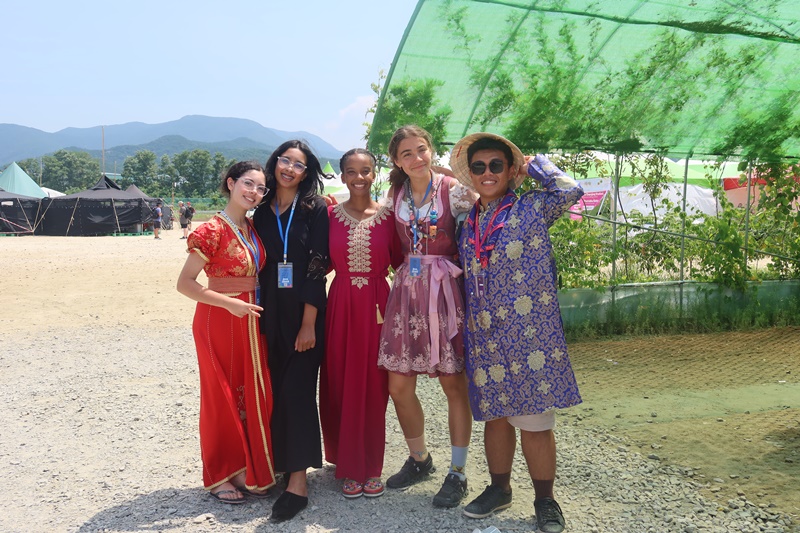 Cultural Exchange Day on Aug. 6 saw an atmosphere in which scouts introduced and exchanged their respective cultures.
Participants dressed in the traditional costumes of their respective countries like Vietnam's ao dai, Austria's dirndl and Morocco's djellaba asked each other about their outfits and took selfies together. The snapping sounds of smartphones could be heard all over the campsite.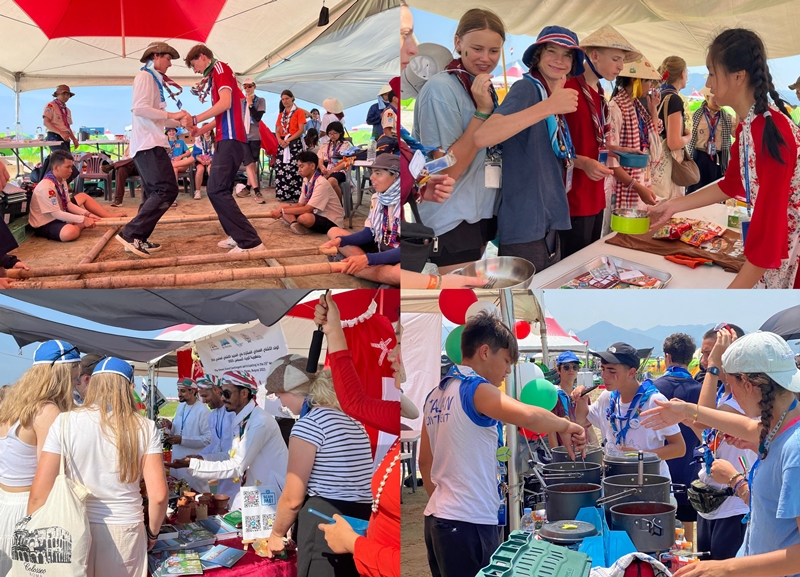 Every tent at the campsite, which covered 8.8 square km in an area equivalent to 1,200 soccer fields, was packed with scouts going around to promote their respective cultures.

Especially bustling this day was the tent of Moroccan scouts. When we entered to see what was happening, the scouts were busy explaining their culture and serving traditional tea, plus the henna tattoos offered to visitors were also a big draw.
At the Vietnamese tent, scouts from a range of nationalities played nhay sap, a traditional game of an ethnic minority in northwestern Vietnam. Similar to Korea's rubber band game, nhay sap has several people hold a bamboo stick in each hand and move back and forth, with the person in the middle jumping over the stick and dancing.

The scouts started jumping over the bamboo sticks with nervous looks but as soon as the game ended, they laughed and asked the Vietnamese scouts if they could try again.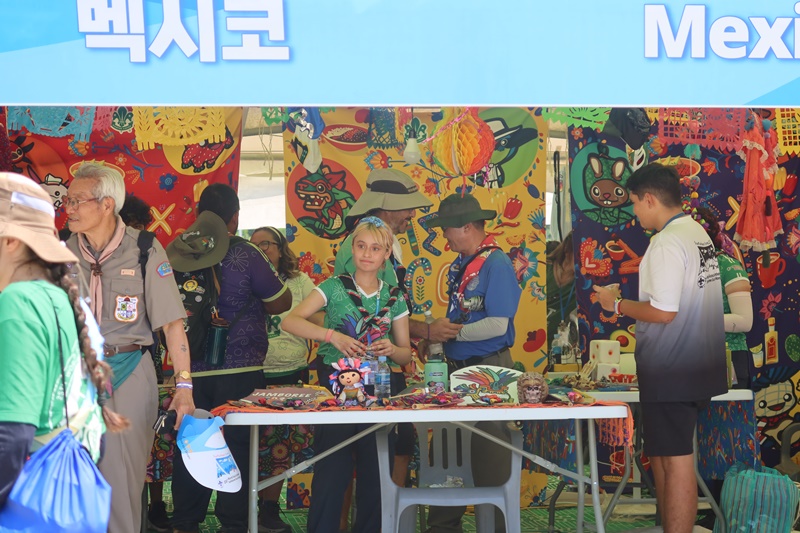 Johanne Hojer, a Danish scout attending her first Jamboree, said, "I visited the tents of Swedish, Maldivian, German and Spanish scouts and the food from the Maldives was delicious," adding, "I was most impressed with the variety of cultures."
On if she had experienced Korean food or culture before, the Dane said, "I stayed in Seoul for a short time before the Saemangeum World Jamboree and went to Gyeongbokgung Palace wearing a Hanbok," adding, "The tteokbokki (spicy rice cake) and cold noodles (naengmyeon) were delicious and I look forward to trying more Korean food after the Jamboree."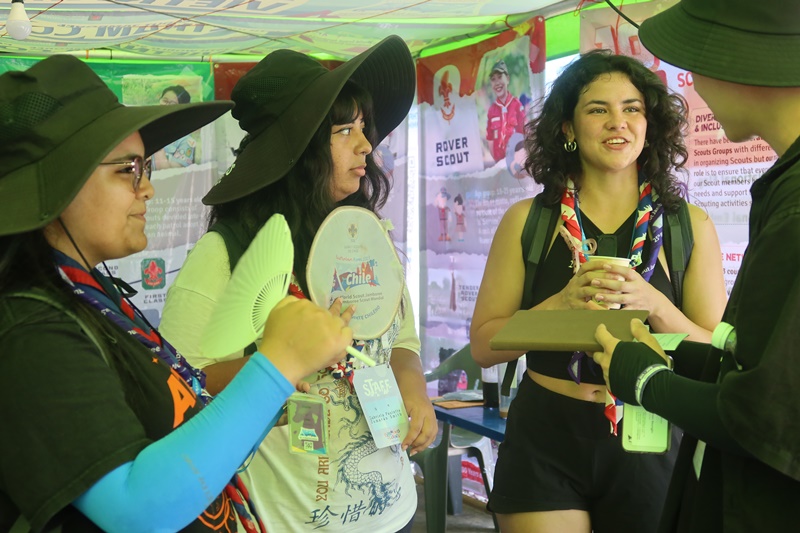 The scouts were accompanied by International Scout Team (IST) staff, who worked around the clock to ensure the success of the Jamboree.
Do Ho Duc Thinh, an IST member from Vietnam attending his first Jamboree and visiting Korea for the first time, said, "The weather was very hot but I liked how they frequently distributed hand fans, hats, mosquito bracelets, umbrellas, ice, cold water and ice cream."

Chilean IST member Elena Vicencio added, "It was a great experience to see little pieces of different cultures all in one place."
shinn11@korea.kr