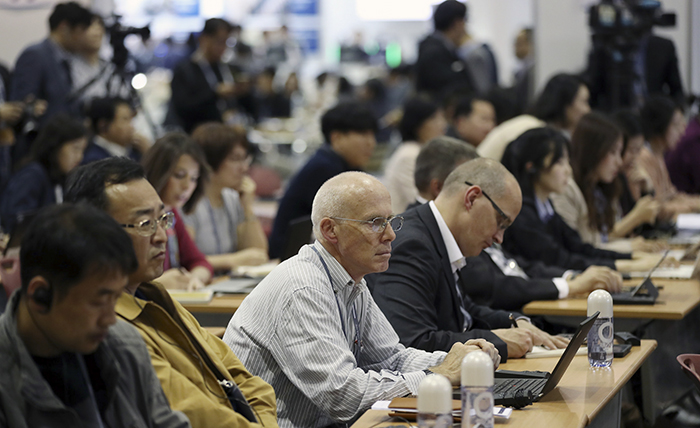 By Min Yea-Ji and Kim Young Shin 
Photos = Inter-Korean Summit Press Corps
The number of foreign correspondents stationed in Korea to cover the region have now exceeded 300 journalists.
The Korean Culture and Information Service (KOCIS), part of the Ministry of Culture, Sports and Tourism, announced on Sept. 5 that there are now exactly 310 foreign correspondents officially registered with the Foreign Press Center Korea (FPC Korea), representing 116 media outlets from 20 countries.
Since the FPC Korea's opening in June 2013, in order to help foreign correspondents cover Korean issues, this is now the first time that more than 300 reporters have been registered at the press club.
Among them, 75 percent are from Japan, with 119 reporters from 24 media outlets. That's followed by the U.S., with 60 journalists from 29 outlets. Then there's mainland China with 23 media specialists from 6 outlets, France with 11 reporters from 6 outlets, and Russia with 7 media specialists from 6 outlets. In particular, China and Japan have sent additional correspondents to Korea over recent months.
By news outlet, Japan's NHK has the most journalists in Korea, with 16 reporters. Reuter comes second with 14 journalists, followed by China's Xinhua News Agency with 7 people, AFP with 6 reporters, and CNN with 5 journalists.
This year, The Guardian, The Washington Post, USA Today and Germany's ProSiebenSat.1 sent new correspondents to Korea. Also, Russia's state-run Rossiya Segodnya opened a Seoul bureau this year to cover news related to the Korean Peninsula.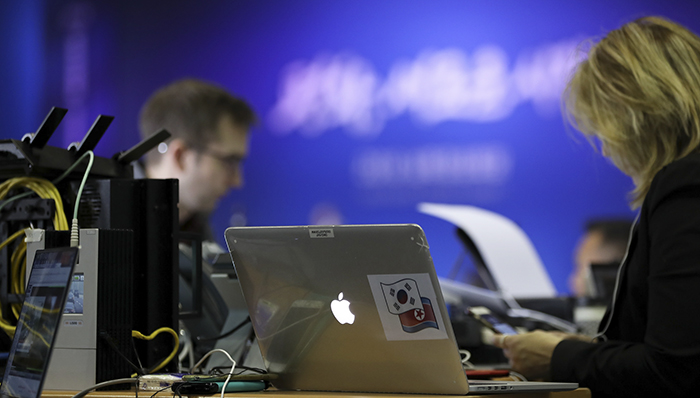 "Interest in Korea has remained very strong in light of the summit meetings with Kim Jong Un and Presidents Moon and Trump, and the ongoing attempts to come to a peace settlement and to denuclearize the peninsula," said USA Today correspondent Thomas Maresca, who first came to Seoul to cover the presidential election in 2017 and the PyeongChang 2018 Winter Games. He has stayed on in Korea as there have been more and more readers interested in issues related to the Korean Peninsula. "Korean coverage remains a high priority for the World desk," he said.
The FPC Korea provides policy information, data and statistics, briefing materials, helps to arrange interviews, and offers cultural excursions for foreign correspondents stationed in Korea.
It will also help international media with their news-gathering activities at the press center for the upcoming inter-Korean summit that will be held later this month.
jesimin@korea.kr