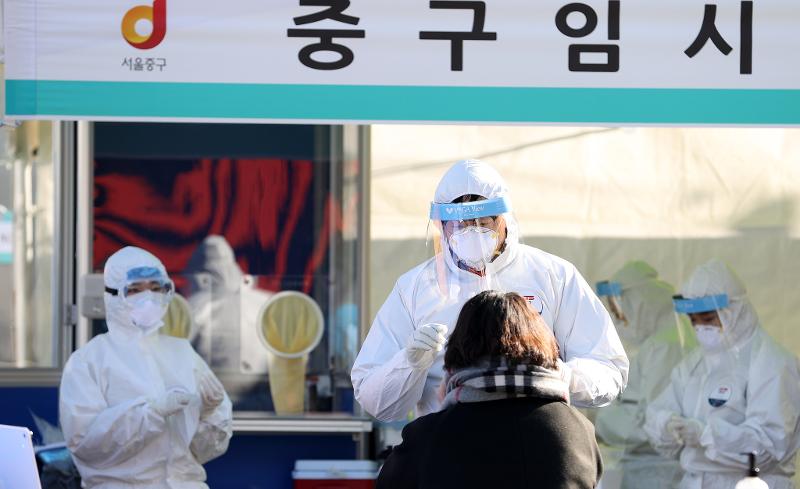 By Jung Joo-ri and Yoon Hee Young
The government from Feb. 21 set up screening clinics for conducting COVID-19 field inspections in 14 areas with heavy concentrations of foreign workers.
The measure seeks to prevent the spread of COVID-19 in those areas, which are called blind spots in quarantine.
Son Young-rae, a senior epidemiological strategist at the Central Disaster Management Headquarters and concurrently spokesperson of the Ministry of Health and Welfare, told a regular briefing at Government Complex-Seoul, "Government-funded field inspections will be conducted in 14 areas with many foreign workers nationwide including Seoul, Incheon, and the provinces of Gyeonggi-do and Chungcheongnam-do. More screening clinics can also be added based on the judgments of local governments."
All of the clinics in the 14 areas are funded by the government and thus offer free testing.
The spokesperson said, "Recently cluster infections have occurred at plants and in areas with many foreign workers," adding, "The government is conducting intensive inspections of these manufacturing industries and areas nationwide and plans to encourage voluntary testing through the setup of temporary screening clinics."
"Even those staying illegally can get tested, and crackdowns and deportation (using an individual's information at the time of testing) are suspended while getting tested."
On potential problems in communication with confirmed COVID-19 cases who are not Korean, he said, "Local governments have designated and operate separate lifestyle treatment centers for foreign residents. If hospitalization in a region is difficult, central treatment centers  — one in the Seoul metropolitan area and three outside of the region — can be used."
"We will strictly ensure no problems in the handling of these measures through actions such as providing information on foreign nationals and their treatment to the centers and assigning nursing staff fluent in English."