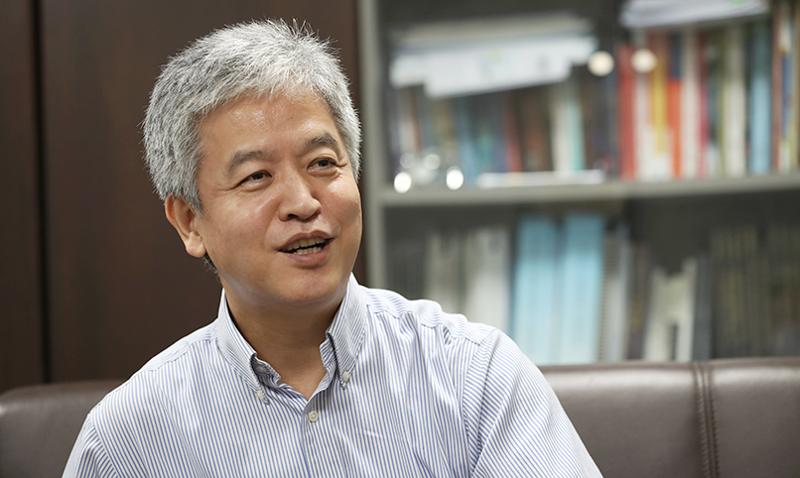 By Kim Young Deok and Lee Jihae
Seoul | Sept. 14, 2020
An office worker cancels her trip abroad during the Chuseok (Korean Thanksgiving) holidays due to COVID-19. She spends more time at home because of her inability to attend meetings of her book reading club. Feeling stifled when the pandemic first broke out, she is now starting to feel more depressed.
Yook Sungpil, chair of the special committee on COVID-19 at the Korean Psychological Association, said this case is a typical early symptom of "COVID-19 blues."
He urged not overlooking depression and anxiety and to actively find solutions.
"To prevent COVID-19 blues and treat early symptoms, we need to minimize our exposure to negative news about the outbreak," he said. "The easiest way to do this is to let go of our cell phones."
The professor at Yongmoon Graduate School of Counseling Psychology has headed the committee since its launch in March this year. He leads a specialized counseling team to help people overcome stress brought on by COVID-19.
Yook is a counseling expert who received his bachelor's, master's and doctoral degrees all from Korea University.
Korea.net held an interview on Sept. 14 with Yook at his school in Seoul on how to self-diagnose COVID-19 blues brought by the prolonged pandemic and prevent depression.
What symptoms of COVID-19 blues can ordinary people detect?
In general, people will feel nervousness, anxiety and depression, which will come with insomnia and lack of attention. Moreover, this could lead to frustration in interpersonal relationships.
It must be hard to self-diagnose depression merely due to anxiety and blues
Yes. There's a self-diagnostic chart to compare COVID-19 blues with depression. The level of symptoms can be discerned based on your score or the number of categories that apply to you. Use the chart to see if you're at the level that requires professional help.
Is professional help necessary if you have a high score in self-diagnosis?
No. Even if you have COVID-19 blues, you should be fine if you have no problems in interpersonal relationships in daily life such as at work or school. Even 90% of those with such experiences can self-recover. But if you hear from people that you've changed, then you probably do need help.
What is an effective way to prevent COVID-19 blues?
The most fundamental and easiest method for regular people to do is to avoid the news. Many habitually grab their cell phones and look through online news as soon as they wake up in the morning, but this must be changed. They need to reduce access to information to an extent. Hearing negative news from morning can lead to constant negative thoughts. Many people hear COVID-19-related news from morning to before going to bed at night.
In my case, I started spending more time talking to my family. Walking around the neighborhood and exercising at home are also good ideas. Watch movies and dramas that you haven't seen in a while. Stress from family relationships can result from more time spent at home due to social distancing, but we must strive to understand each other.
Is not hearing negative news effective?
Yes. At the time of the Sept. 11 attacks in 2001, the U.S. government promoted response and activity rather than negative news to prevent secondhand post-traumatic stress disorder among Americans.
The pandemic is expected to be prolonged. How can we implement psychological quarantine?
We say "new paradigm" and "new normal." For instance, we need to avoid holding conferences in person. We're so used to our old ways and thus feel uneasy and unnatural in the new environment. But if we change our thoughts a little, we can just tell ourselves that we're living a new life.
Any advice on responding to COVID-19?
The pandemic is something we're all experiencing for the first time. We might have fear and worry, but researchers and experts around the world are working very hard. So we must believe that we will overcome it.
I advise people to think "thanks to myself" rather than "thanks to medical staff." We must refrain more and stay at home to overcome this crisis. I think we should all thank each other for participating in quarantine despite its inconveniences.
[Self-diagnosis chart for COVID-19 blues]
No. of days of experiencing symptoms over last two weeks
| | | | | |
| --- | --- | --- | --- | --- |
| Questions | None | 2~6 days | 7~12 days | Almost daily |
| Have you felt down, depressed and hopeless? | 0 | 1 | 2 | 3 |
| I've lost interest in things I used to do regularly. | 0 | 1 | 2 | 3 |
| I find it hard to sleep or I sleep too much. | 0 | 1 | 2 | 3 |
| My appetite has dropped/I've started eating more than usual. | 0 | 1 | 2 | 3 |
| My words and actions have slowed enough for people to notice/ I can't stay still because I'm too anxious. | 0 | 1 | 2 | 3 |
| I'm tired and lack energy. | 0 | 1 | 2 | 3 |
| I think I've erred and failed/I think I let myself and my family down. | 0 | 1 | 2 | 3 |
| I can't focus on daily activities such as reading a newspaper or watching TV. | 0 | 1 | 2 | 3 |
| I think I'm better off dead/I've thought of hurting myself | 0 | 1 | 2 | 3 |
| | | | | |
| --- | --- | --- | --- | --- |
| Total score | 0~4 | 5~9 | 10~19 | 20~27 |
| Level of depression | Normal | Slight | Mid-level | Severe |
• Counseling from experts is available by calling the Korea Disease Control and Prevention Agency (1339) and free help is available from the Korean Psychological Association (9a.m. to 9 p.m. both on weekdays and weekends, 070-5067-2619~2819). Those confirmed with COVID-19 and their families can call the National Center for Disaster Trauma (02-2204-0001~2), those in quarantine and the public can call a mental health welfare center (1577-0199) for counseling.