By Kim Hyelin and Lee Jihae
Video = Lee JunYoung
Walking under the scorching sun, a person enters a convenience store, buys one bottled water and takes a sip. The bottle is soon empty, so she puts the cap back on and throws it away in a can marked "PET" (polyethylene terephthalate). This is when the journey of the plastic bottle's transformation into a high-added value recyclable resource begins.
PET bottles have light properties and are malleable. If separated and discarded properly, they can be transformed into functional apparel or recyclable resources. They can turn from trash to a variety of items such as activity clothing for police and military officers, string, filling materials for clothes, mesh bags and hand sanitizer containers.
The Korean Culture and Information Service, an affiliate of the Ministry of Culture, Sports and Tourism, on May 27, three days before the 2021 P4G (Partnering for Green Growth and the Global Goals 2030) Seoul Summit, held a media tour for foreign journalists based in Korea. The 20 participating reporters representing 12 media outlets from nine countries saw the process of recycling plastics.
Korea.net staff joined the tour to see onsite a resource circulation process of plastic trash returning to the arms of consumers.
The tour began in Hoengseong-gun County, Gangwon-do Province, inside a screening field for recyclable items. The back door of a truck was opened to allow PET bottles in various forms fall all over the floor. The conveyor belt connected to the ground picked up the bottles and noisily moved them to the second floor, where staff stood on both sides. They selected recyclable bottles and sent them back to the belt on the first floor.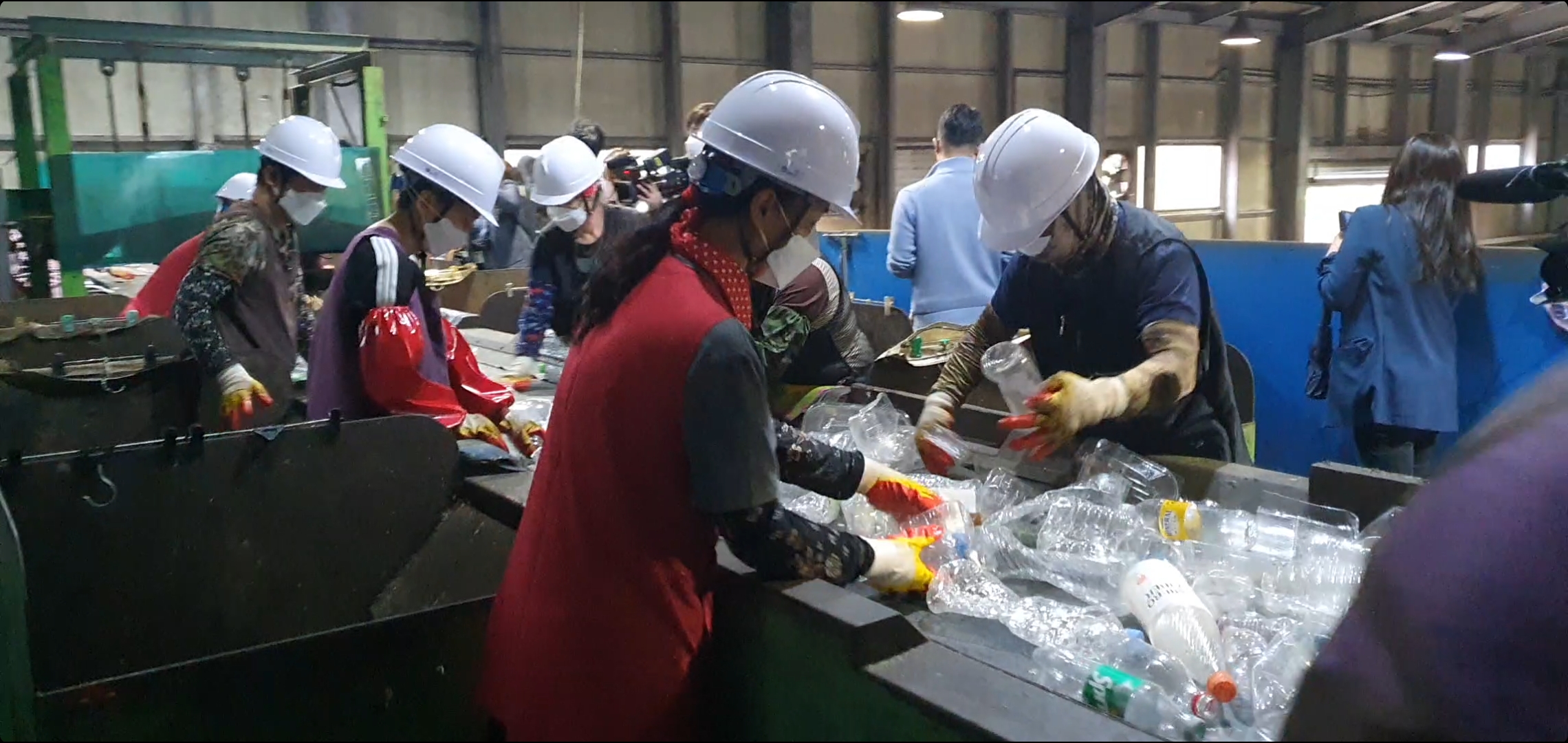 Soon, only crushed plastics of various sizes were on the conveyor belt. Non-transparent plastic bottles such as those with no color, blue or brown were designated for use as low value-added goods such as padding or filler for dolls, egg containers or disposable plastic cups. Only the transparent bottles are recycled as drink bottles or polyester thread. Whether discarded plastic is turned into high-or low-value added resources depends on level of transparency. PET bottles and polyester are both made of polyethylene terephthalate, so polyester thread can be made by cutting such bottles into thin pieces and melting and turning them into thin thread.
The discarded PET bottles were gathered, compressed into quadrilateral shapes and sent to the company Doosan ENT. The latter separates the caps and labels from the bottles through an automated process, smashes the bottles into pieces and cleans them to form "flakes." The purity of the flakes determines the quality of the final product, so the flakes are cleaned several times. The bottles are flat before going inside the large machine and come out as transparent flakes going into sacks.
The completed flakes are sent to another corporation that makes uniform flake chips. A synthetic fiber manufacturer melts the flakes to turn them into long and thin thread, thus the discarded bottles are ready to be reborn as functional apparel.
Black Yak, a leading domestic brand of outdoor wear, produces clothes made from recycled polyester thread of this type. The company in August last year became the first in Korea to make functional apparel by using K-rPET (Korean recycled PET), a fiber made from recycled PET bottles collected in the country.
Companies like synthetic fiber manufacturer TK Chemical, Black Yak and Doosan ENT and local governments nationwide formed a cooperative system for collecting transparent PET bottles and making products from them. Business and local governments created a resource circulation system to reduce the import of discarded plastic, a source of recycled fiber, and increase dependency on domestic materials.
A Black Yak source said, "Recycling PET bottles instead of getting raw materials from petroleum and producing new polyester reduces carbon emissions 65% and energy consumption in the production process 70%."
By next year, the Ministry of Environment plans to boost the domestic supply of high-quality PET recyclable resources to more than 100,000 tons, up from 28,000 in 2019. The country two years ago also imported 78,000 tons of discarded PET and recyclable resources, and the goal is to have the country become completely self-sufficient in that area.
Olga Tsoy, a reporter from Kazakhstan's news outlet Khabar Agency, said, "Kazakhstan has mainly buried plastic due to the country's large territory. We remain in the early stage of plastic recycling so there's much to learn. This is why I participated in the tour."
"I want to introduce to Kazakhstan Korea's impressive recycling system."