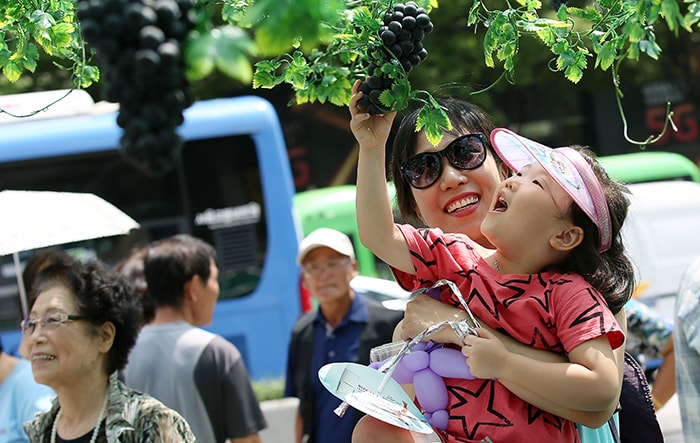 Laden with heavily ripened grapes, a special garden in Gwanghwamun Square is bringing smiles to many faces.
Grape Day 2015 was held in the square in central Seoul on Aug. 6, despite a heat wave that raised midday temperatures to 34 degrees Celsius.
Since 2008, to promote the healthy value of grapes, an iconic mid-summer fruit, Grape Day was set as Aug. 8, as the number eight is reminiscent of the shape of the grape fruit. At Gwanghwamun Square, grape varieties from across the country are on display in the grape promotional booths. Visitors can taste delicious grapes and grape extracts.
Visitors to the square, especially children, had fun picking grapes and snapping photos in the special garden decorated with arbors and grapevines adjacent to the grape promotional booths. Kim Hu-jin, president of the Association of Korean Grape Farmers, said that, "I hope Grape Day can help promote the healthiness of grapes and allow more people to fall in love with the fruit."
The National Agricultural Cooperative Federation, known by its Korean abbreviation of NongHyup, said, "Grapes are full of vitamins, minerals, polyphenols and anthocyanins that all help people recover from fatigue, and improve the immune system and eyesight. Studies have found that the resveratrol contained in the fruit can help to hinder the production of some cancer cells. Also, its flavonoids suppress thrombosis and have a remarkable effect on preventing heart disease and arteriosclerosis."
The cooperative also said that it will hold special grape promotional events at Hanaro Mart grocery stores and at the NongHyup e-market online shopping mall from Aug. 6 to 9.
Article by Jeon Han, Yoon Sojung
Photos: Jeon Han
Korea.net Staff Writer
[email protected]