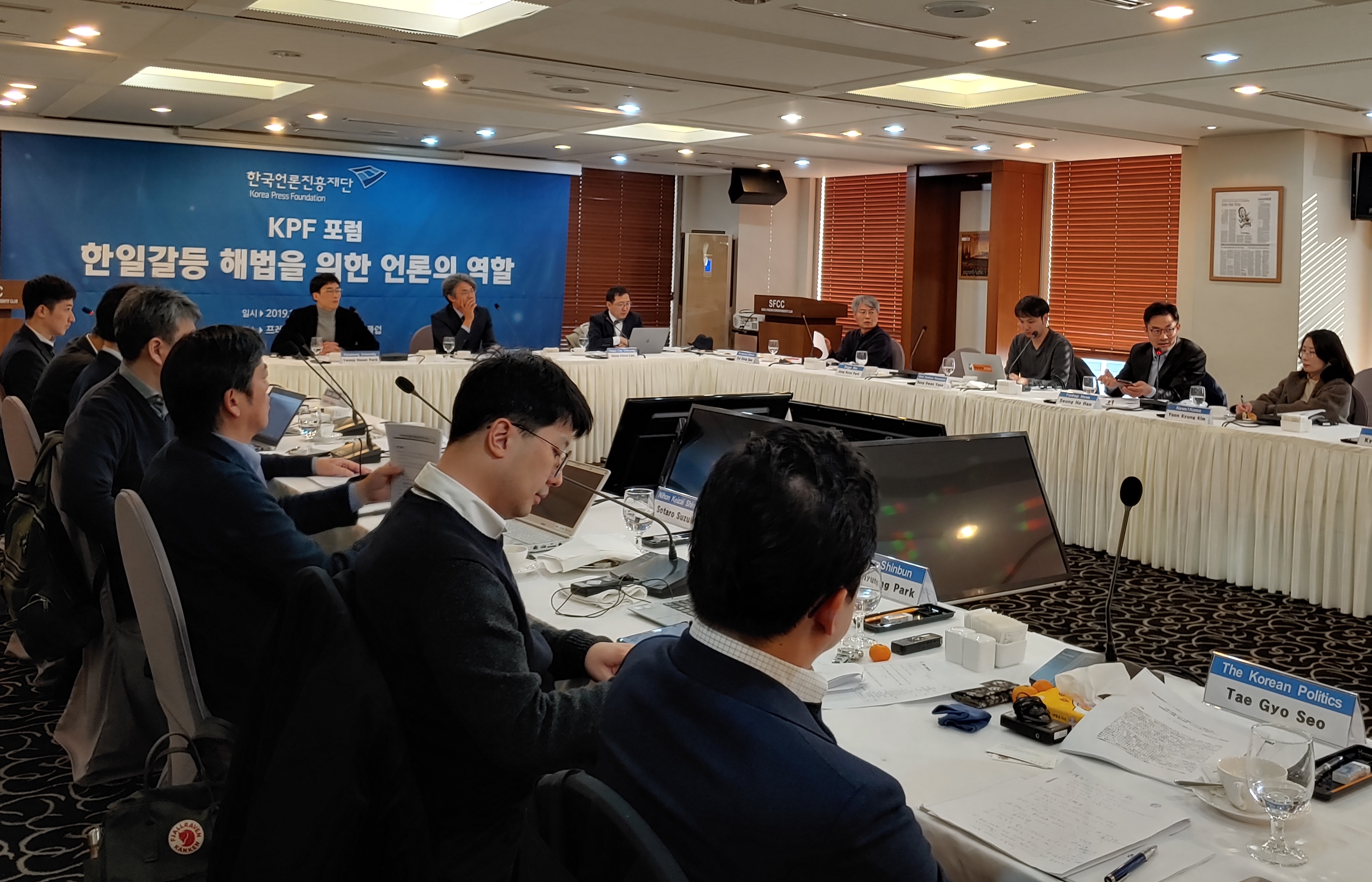 By Kim Eun-young and Lee Jihae
Seoul | Dec. 4, 2019
Korean and Japanese media professionals and specialists on Dec. 4 gathered at a Seoul forum on the conflict between their countries, saying excessive media reports are stoking tension and urging the media to assume a more wholesome role.
The forum "The Media's Role for a Solution to Korea-Japan Conflict" was held at the Seoul Press Center and hosted by the Korea Press Foundation. Participants discussed media reports on bilateral tensions and proposed solutions.
The attending scholars and journalists included reporter Isoko Mochizuki of The Tokyo Shimbun, editorial writer Seo Yeong-ah of The Dong-A Ilbo in Seoul and professor Park Young-heum of Hyupsung University in Hwaseong, Gyeonggi-do Province.
Korean Culture and Information Service Director Kim Tae-hoon said in the forum's opening speech, "The conflict between Korea and Japan is further destabilizing the geography of unstable international politics such as the U.S.-China trade war and North Korea's nuclear missile issue."
"The media's role in both countries is pivotal for (setting) a future-oriented relationship."
The participants began the forum by discussing media problems in the two nations.
Since the Japanese government announced in July export restrictions on Korea, they said, Japanese broadcasters have stoked anti-Korean sentiment in programs such as "Information Wide Show" and expanded news coverage of biased content.
"There have been more media reports criticizing Korea than those covering Japan's social issues because the media wants to increase viewership and cater to the Japanese government," said Mochizuki.
Lee Hong-Chun, a professor at Tokyo City University, added, "The vicious cycle continues as sensational media coverage distorts public opinion and is reproduced via social media."
Former Kyodo News reporter Aoki Osamu said, "The media is leading people to consume news based on interest and casting panelists who lack knowledge on Korea."
Professor Park said news reports comprising facts only might seem objective but offer no analysis or solutions to the public, while partisan coverage exploits the bilateral political conflict.
The forum also sought solutions to media coverage of the Korea-Japan conflict.
Takeshi Kamiya, Seoul bureau chief of The Asahi Shimbun, called Japan's export restrictions to Korea an "embargo."
"Spreading over-analyses exacerbates public opinion," he said, urging more caution on the part of reporters in their word choices.
Editorial writer Seo said, "Media reports need to be objective and factual and based on common sense and reason."
Patrick Welter, Tokyo correspondent for the German daily Frankfurter Allgemeine Zeitung (FAZ), also stressed that the media needs to pursue neutrality rather than sensational coverage.