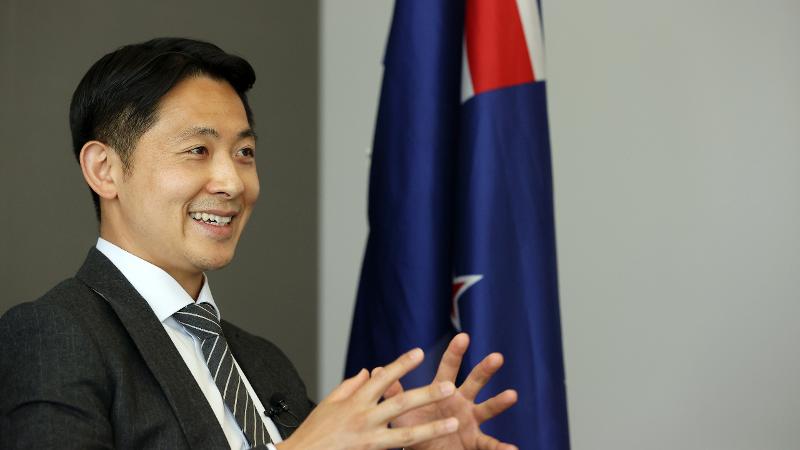 By Yoon Sojung
Photo = Jeon Han
Seoul | April. 15, 2021
The clearest difference between Korea and New Zealand, two global role models for responding to the COVID-19 pandemic, is that Seoul has never ordered a lockdown, the deputy head of mission at the New Zealand Embassy in Seoul said.
Jeongmin Park on April 15 told Korea.net in an interview at the embassy in the capital's Jung-gu District, "New Zealand had a national lockdown period and people were unable to leave their residences."
Korea used similar methods such as social distancing and mask wearing, he added, but compared with New Zealand, businesses continued to run and Koreans could move about and enjoy more freedom.
Park's family immigrated to the island nation from Korea when he was 3. Appointed to his post in January this year, he mainly assists the ambassador and performs general consular and policy-related affairs.
From 2004-14, Park was an artillery officer for his nation's Ministry of Defense, serving in Bosnia and East Timor and being a member of the 16th Field Regiment, which fought in the Korean War (1950-53). Since shifting his career to diplomacy, he has worked on Pacific issues for the New Zealand Ministry of Foreign Affairs and Trade's Pacific and Development Group and handled Association of Southeast Asian Nations and East Asia Summit issues for the ministry's Asia Regional Division.
Park has also served as acting deputy high commissioner for Asia, and from 2016-19, he was deputy head of mission at the New Zealand Embassy in Vanuatu.
This year also marks a special milestone for Park: the 70th anniversary of the Battle of Gapyeong in the Korean War, in which troops from four Commonwealth nations — Australia, Canada, New Zealand and the U.K. — successfully fought off Chinese forces. The military victory effectively prohibited China from crossing the northern part of the Hangang River and delayed its attacks. Park served in the 16th Field Regiment, the New Zealand unit that fought in the battle.
In 2011, Park attended a ceremony marking the battle's 60th anniversary as a military officer, and on the 70th anniversary this year, he is a diplomat representing New Zealand.
The following are excerpts from the interview.
– How has bilateral cooperation been since COVID-19 broke out last year?
Bilateral cooperation has been going well. Both countries have been working together closely in trade, investment, global issues, cooperation on COVID-19 response, and geopolitical and other issues. We have always had a great relationship with Korea.
– The two countries are considered global models for responding to the coronavirus. How have both sides cooperated in this regard?
Both countries are leading countries in responding to COVID-19, but the two countries have used different methods to respond to the disease. New Zealand used an elimination strategy against COVID-19 and lockdown to contain the spread of the virus, whereas Korea used social distancing, quick testing and contact tracing rather than lockdown while maintaining business as usual. Both countries are involved in the Coordination Group on COVID-19 under the United Nations, where we share our experiences and know-how with other countries. For example, many countries through seminars were able to learn of Korea's experiences and secrets in holding a national election last year in the midst of the pandemic. In the same year, New Zealand also had an election and was able to share lessons from Korea's experiences.
Another area of cooperation is vaccines. Both countries have been closely working together through the COVAX facility. Korea and New Zealand have similar timelines in responding to COVID-19, so we both are looking toward to vaccinating a high percentage of our populations by the end of the year.
– What would you say is the biggest difference between Korea and New Zealand in responding to COVID-19?
One of the clear differences is lack of lockdowns. Korea has never had a lockdown whereas New Zealand had a national lockdown period. At that time, people were not able to leave their residences.
Korea used similar methods such as social distancing and mask wearing, but when you compare with New Zealand, Korea managed to continue business and the Korean people enjoyed more freedom to move.
The two countries took different measures because of differences in population or other conditions. But both countries were recognized as world leaders in responding to COVID-19 thanks to successful cooperation between the two governments and people.
– A bilateral free trade agreement (FTA) took effect in 2015. In November last year, Korea also signed the Regional Comprehensive Economic Partnership, whose signatories include New Zealand. What results have these two accords produced so far?
It's been only five years since the FTA took effect, but so far it has been very successful. The volume of bilateral trade and investment has increased every year. Korea is the eighth-largest trade partner for New Zealand. Since the FTA, tariffs are gone in exports so our exports have more competitiveness with better prices. One such example is New Zealand wine, which is an important part of our exports. Such wine can be purchased at Korean markets without tariffs, so you can enjoy them at good prices.
Regarding the RCEP, it is not at the implementation now, but this largest free trade pact shows our commitment to multilateral trade in a symbolic manner. Although heavily affected by COVID-19, this pact shows our commitment to free trade.
– New Zealand fought in the Korean War along with three Commonwealth countries. How will you mark the 70th anniversary of the war's Battle of Gapyeong this year?
We have a Commonwealth ceremony on April 23 every year. The ceremony is held at the memorial in (Gapyeong-gun County, Gyeonggi-do Province), with the host country Korea and veterans of the war from the Commonwealth countries. After that, each of the Commonwealth nations hosts celebrations in a smaller size.
Ten years ago in 2011, I attended the ceremony as a uniformed officer. The unit I served at the time was the 16th Field Regiment, which fought in the Battle of Gapyeong. War veterans who attended the ceremony were so touched to find how Korea has become a developed country since they fought in the war. They took pride in their role of helping this country's development and it was so heartwarming to see them. The Battle of Gapyeong is still a big part of my unit's history, and the unit teaches the battle when new soldiers come in.
– Next year marks the 60th anniversary of Korea-New Zealand ties. What commemorative events will your embassy hold?
We have made no concrete plans yet, but will soon come up with a detailed plan in the middle of this year. We hope to host events with different themes every month to shed new light on the bilateral relationship and highlight important features of bilateral cooperation. We are considering events related to investment, trade and people-to-people exchanges. All depends on how COVID-19 gets stable.
I hope that these events can offer opportunities to the 45,000 ethnic Koreans residing in New Zealand, who take up 1% of the total population, to communicate with each other. I also wish to introduce Koreans who are prominent in New Zealand society.
– As a Korean New Zealander serving as deputy head of mission at the New Zealand Embassy in Seoul, how does it feel to work in your father's motherland?
As a New Zealander with a Korean background, I feel so privileged and thankful to represent New Zealand in my father's land. I also feel thankful to contribute to this country by using my background. It is twice more meaningful to represent New Zealand offshore and serve the country I was born in.
I have no memories about Korea because my family immigrated to New Zealand when I was 3. But if I can, I wish to bring my father, who was a musician and a member of the folk music band Three Owls, and show him many parts of Seoul today.
– What role do you wish to play while serving in Korea?
As a diplomat of Korean heritage representing New Zealand, I feel privileged to connect the cultures of both countries. Bilateral relations have always been good to begin with; there is nothing I have to do overly than I usually do. I will do my best to mark the 70th anniversary of the Battle of Gapyeong and the 60th anniversary of the diplomatic relationship next year.