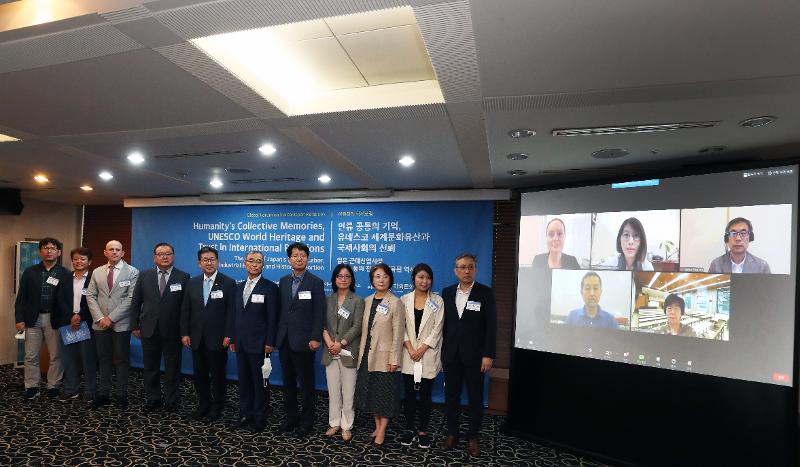 By Lee Kyoung Mi and Yoon Sojung
Photos = Ministry of Culture, Sports and Tourism
"During World War II, Japan began organized activities to deny its mobilization of Koreans, Chinese and other people for forced labor," said Osaka University professor Akihisa Matsuno on July 29.
He was speaking at an international forum held at the Seoul Foreign Correspondents' Club of Korea Press Center under the theme "Humanity's Collective Memories, UNESCO World Heritage and Trust in International Relations" with the subheading "The Truth of Japan's Forced Labor, Modern Industrial Facilities and History Distortion."
"Japan's Meiji industrial sites have become another hot battlefield in the history of war," he added.
Experts from Korea, Japan, Taiwan, the U.S. and Australia on July 29 gathered both on and offline for an international forum in Seoul on responses to Japan's latest history distortion as shown at the Industrial Heritage Information Centre in Tokyo.
The event was hosted by the Asia Peace and History Institute and sponsored by the Korean Culture and Information Service under the Ministry of Culture, Sports and Tourism.
Hideki Yano, a Japanese civic activist who recently visited the Tokyo center, said, "The center's director Koko Kato and guides (on Hashima Island) state that no forced labor occurred on Hashima Island and that Korean workers suffered no discrimination there."
He stressed that the exhibition needs improvement since it violates the Japanese government's promise to UNESCO.
Kim Min-chul, a professor at Kyung Hee University in Seoul, said, "The problem of forced mobilization and labor is not limited to only Korea and Japan, but is a human rights issue that includes Chinese and prisoners of war from the Allied powers."
"Japan's Industrial Heritage Information Centre must exhibit the joint memories of relevant countries, including those of the victims."
Lauren Richardson, a lecturer at Australian National University, spoke on the theme of forced labor in East Asia as seen by a third party. She discussed the process of forced mobilization of Korean laborers and mentioned the methods of coercion and violence used.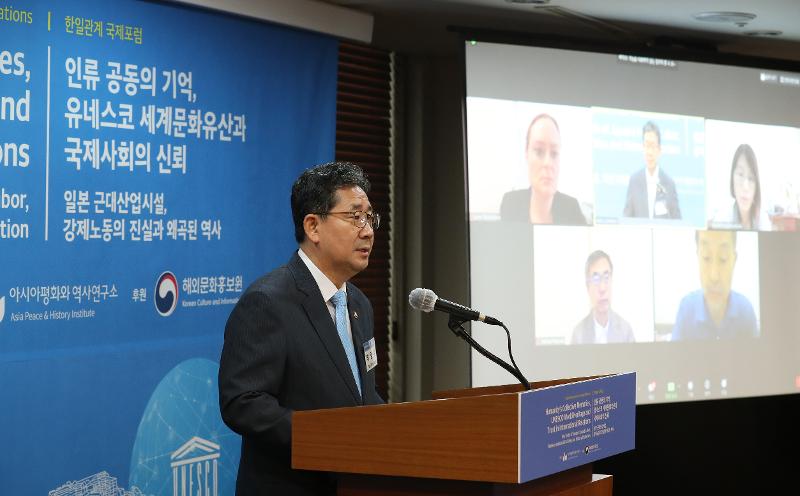 Minister of Culture, Sports and Tourism Park Yang-woo said at the forum, "To win trust from the nations in Asia it victimized and sincerely cooperate and gain solidarity with them, Japan must clearly reflect on and apologize for its wrongdoings."
"I hope today's discussion will serve as an opportunity to reflect on the pain of the victims and the universal values of humanity that UNESCO World Heritage should hold."
To earn designation as UNESCO World Heritage for Meiji industrial sites including Hashima (Battleship) Island in 2015, the Japanese government promised to build an information center on Japan's forced mobilization of Koreans and other people to work during World War II under harsh conditions as well as remember the victims.
Yet the exhibition at the Tokyo center, which was opened to the public last month, is attracting criticism from the international community for having nothing on the topic and instead honored the achievements of Japan's Meiji Industrial Revolution.