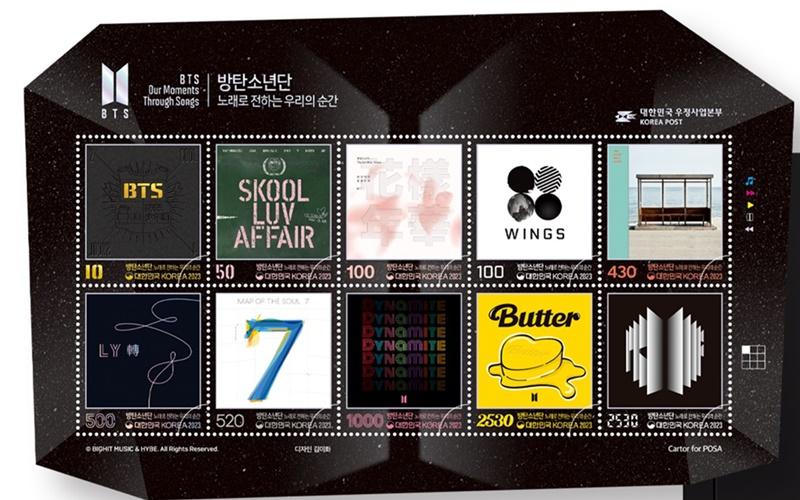 https://w.soundcloud.com/player/?url=https%3A//api.soundcloud.com/tracks/1509086095&color=%23ff5500&auto_play=false&hide_related=false&show_comments=true&show_user=true&show_reposts=false&show_teaser=true
New BTS stamps to mark 10th anniversary of group's debut

By Israa Mohamed
Stamps celebrating the past 10 years of K-pop sensation BTS will be issued next month.
Korea Post under the Ministry of Science and ICT on May 7 said it will issue the commemorative stamps on June 13.
The release coincides with the BTS milestone, as the group released its first album in June 2013.
A combined 1.5 million stamps will be available in 10 versions. Another 250,000 commemorative packets to go on sale will feature the stamps and each BTS member's portrait in a bundle.
For public convenience, Korea Post from May 22-25 will run a pre-order service in Korea for registered members on its online postal service site (www.epost.go.kr).
A pre-order webpage for BTS fans abroad (www.koreastamp.or.kr) will be launched on June 1.
On-site sales of the stamps will kick off on June 13 at post offices nationwide. A set of 10 stamps is priced at KRW 7,770 and a commemorative packet KRW 20,000.

"I consider it highly meaningful to issue commemorative stamps with BTS, who promotes K-pop worldwide," Korea Post President Son Seung-hyun said. "We will strive to keep creating necessary and meaningful stamps."
ess8@korea.kr