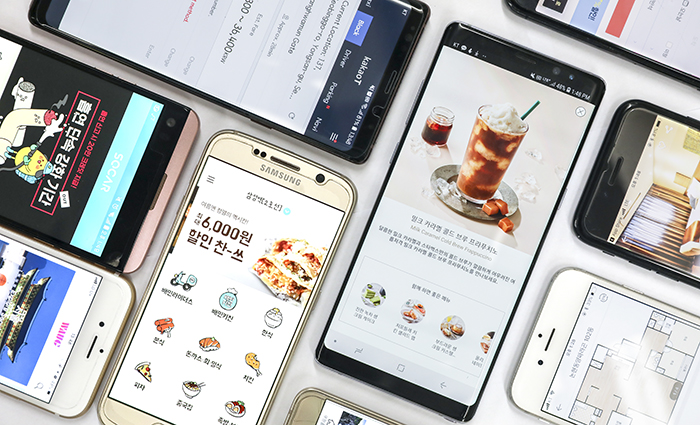 By Min Yea-Ji and Kim Hyun-Bin
Lee Jeong-ah, an office worker, starts and ends her day by turning on mobile applications.
– 7 a.m. Lee opens her front door and picks up a salad box that was delivered overnight, which she ordered the night before using an app. She has it for breakfast.
– 8:30 a.m. Lee calls a cab on an app while she gets ready for work.
– 12 p.m. Lee plans a weekend trip to Jeju Island. She books a hotel room with another app over lunch.
– 3 p.m. She misses her dog that's at home alone during the day. She taps a pet app to read a journal entry that was written by her pet-sitter. She was worried that her dog might be lonely, but the photo shows that the dog is fine.
– 7 p.m. On her way home, another app notifies that her dry cleaning is ready for pick up. She sets a time for her clothes to be delivered to her home and she pays for the service.
This is a normal day for a person who uses "online-to-offline" (O2O) apps. Such a way of life is common.
O2O describes apps that allow people to buy physical products or services. It only requires few taps to order, purchase or reserve. Such simple processes attract users. The O2O market is likely to grow further as mobile payments get easier and easier. According to the Korea Internet & Security Agency, the O2O market in Korea was worth KRW 321 trillion in 2017 and is expected to grow to larger than KRW 1 quadrillion by 2020.
The apps aren't just for shopping online. There are many products and services provided on your smartphone to suit your personal needs.
There are transportation apps that call taxis or reserve a shared car. There are delivery apps that curate to-go food available at nearby restaurants. There are real estate apps that provide information about properties without having to visit an estate agent's office. There are even house cleaning apps that allow you to order housekeeping services on demand. There are many other services, too, including recycle or waste removal, financial management, dry cleaning pick up and drop off, pet-sitting and personal training.
Among these, some of the more common apps, like those to call a taxi, book a shared car, have some food delivered, book a hotel, or find a room to rent, have exceeded 10 million cumulative downloads.
Many consumers find O2O apps to be popular because they are easy to use and safe.
Kim Yun, a college student living in Seoul, frequently uses the taxi call-app.
"It comes in real handy when you call a cab late at night or in the early hours of the day, even when you're in a remote neighborhood," said Kim. "It also feels safe to use the app because I can send the information about my exact taxi to my friends."
Kim So-yeon, another call-taxi app customer living in Gwangyang, Jeollanam-do Province, said, "It saves me a lot of time having to wait for a taxi to come."
Park Ji-hye, a Seoul resident who uses an app to order food from a restaurant, said, "It's convenient because I can see which places are open nearby. I can also look at other people's reviews before I choose something from the menu."
However, there are also complaints about using smartphone apps.
"I get disappointed all the time by the quality of service, which was worse than what was described online," said Lee Su-ran from Seoul.
"It's annoying to see pop-up ads and unnecessary alerts," said Na Hyeon-ah from Naju, Jeollanam-do Province.
Experts say that O2O services, combined with AI, will create a new pattern of consumption in the near future.
"There will be new patterns of consumption where connected peers get involved in one's act of consumption," said futurologist Choi yoon sik. "Such changes will shock the movement of money and jobs temporarily, but, in the long-term, it will expand the market, boost wealth and create new jobs."
There are criticisms that these apps will change marketing patterns and daily-life patterns of people who live alone, and that they may create social problems, such as a lack of human interaction or a fragmentation in society.
"It may look like smartphones and the mobile internet are causing society to be fragmented, but if you take a closer look, they are connecting people in a new way," said Choi. "Never in the history were humans connected to each other with this width and depth."
jesimin@korea.kr