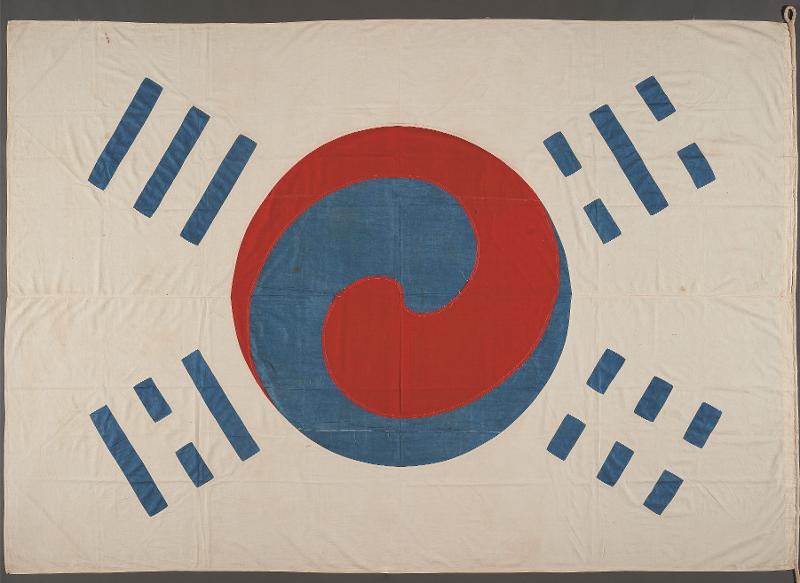 By Xu Aiying and Yoon Hee Young
O.N. Denny's Taegeukgi, the oldest surviving prototype of the national flag and designated National Registered Cultural Heritage No. 382, is on public display to mark the 102nd anniversary of the March First Independence Movement of 1919.
The National Museum of Korea from Feb. 23 to March 8 is holding an exhibition of the historic flag at Korean Empire Hall.
Emperor Gojong, the Joseon Dynasty king who reigned from 1863-1907, gave the flag to U.S. consul Owen N. Denny (1838-1900) when the American returned home in 1890.
Appointed the emperor's diplomatic adviser in 1886 upon the recommendation of influential politician Li Hongzhang (1823-1901) of China's Qing Dynasty, Denny criticized Qing's interference in Joseon's (Korea's) domestic affairs and said Joseon was an independent and sovereign state. Consequently, the American was removed from his position under Qing pressure in 1890 and had to return to the U.S., before which Gojong gave him the flag.
Measuring 263 centimeters wide and 180 centimeters high, the large-size Denny flag was made with two sets of white cotton cloths pieced together that were sewn with red and blue cloth pieces. The shape and arrangement of the four black trigrams are identical to those of today's flag, but with blue instead of black trigrams.
This flag was donated to Korea in 1981 by Denny's descendant William Ralston.