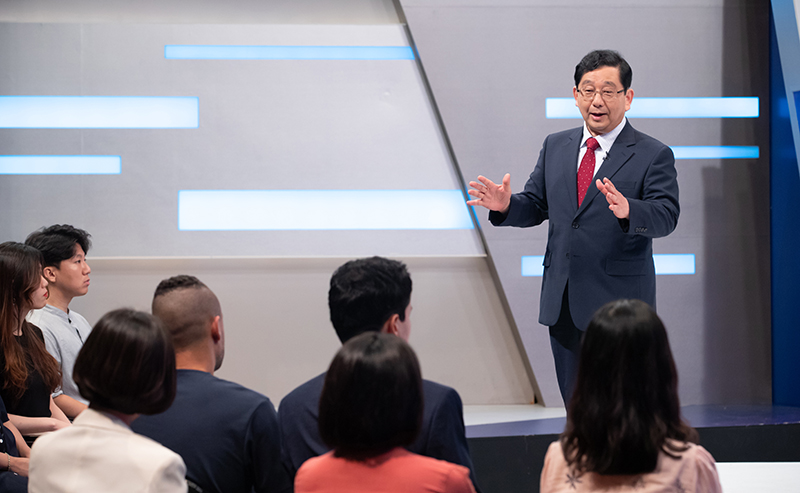 By Yoon Sojung 
Photos = Kim Sunjoo
Seoul | August 8, 2019
Sejong University professor Yuji Hosaka has emphasized accurate understanding of Japan's Abe administration for Korea to better respond to Tokyo's economic sanctions.
In a special lecture on Arirang TV's talk show "Heart to Heart" filmed on Aug. 8, the Japanese-born scholar said, "The ruling Liberal Democratic Party of Japan did not originate from the Japanese conservative mainstream," adding, "We should know them precisely to effectively respond to Japan."
Unlike the Japanese conservative mainstream, which accepted the San Francisco Peace Treaty reached by Japan and the United Nations in 1951 and Japan's Pacific Constitution enacted in 1946, he said the Abe administration is rooted from the most extreme right-wing group that was formed after 1945 and later dominated the party.
Hosaka also explained that the Abe administration advocates historical revisionism to allow Tokyo to revise the Japanese constitution and revive the military. He also said this belief has driven Japan's policy toward North Korea.
Though many Japanese people are normally disinterested in political issues, the professor said more citizens and media outlets have recently expressed concern over the trade conflict between Seoul and Tokyo, as more Koreans join nationwide campaigns to boycott Japanese products and cancel travel to Japan.
On how to develop desirable ties, he said, "Bilateral relations should be based on mutual understanding and friendship," adding, "Both countries should learn each other's strengths."
"Japanese education authorities should teach their descendants the history of Korea-Japan relations, though they have not taught history after the era of Ito Hirobumi (1841-1909), a statesman who served as the first governor of a Japanese-occupied Korea."
Teaching political science at Sejong University in Seoul, Hosaka in 2003 became a naturalized Korean. His focus is researching historical issues involving Korea and Japan such as the Dokdo islands and the comfort women. He is also director of the Dokdo Research Institute, adviser to a special committee on Japan's economic invasion and a board member of a support foundation for victims of forced mobilization by Japan.
The special lecture will be aired by Arirang TV on Aug. 14 at 8 a.m., 1:50 p.m. and 9:20 p.m.