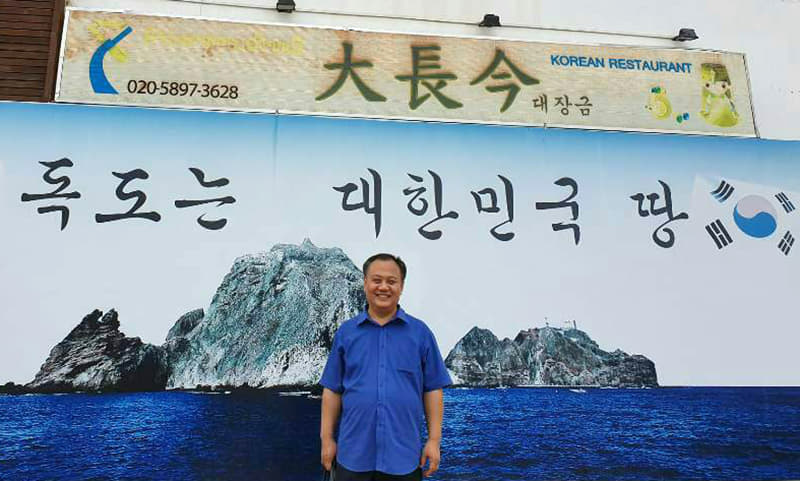 By Park Hye Ri and Lee Jihae
Photos = Youn Jae Wouk
Laos, the last leg of President Moon Jae-in's three-nation tour of Southeast Asia, has been recently featured in entertainment programs in Korea. Lao cities or towns such as the capital Vientiane, Luang Prabang and Vang Vieng are growingly popular among Koreans as destinations for a peaceful and relaxing vacation.
Yet the number of Koreans visiting Laos in 2017 was 170,571, or less than a tenth of those who went to neighboring Thailand the same year (1,787,818).
Despite the weak familiarity and low people-to-people exchanges between the two countries, a Korean entrepreneur in Laos is trying to raise public awareness of Korea's territorial sovereignty over the disputed Dokdo islands, which Japan has also laid claim to. Youn Jae Wouk, 53, runs four Korean restaurants in Vientiane that all have signs saying "Dokdo is Korean territory."
Moving to Laos in 2004 to start a business, Youn said an incident in 2016 motivated him to begin such a campaign. Elected in 2015 as the head of the Vientiane branch of the World Federation of Overseas Korean Traders Associations, he attended a banquet hosted by the Lao government in 2016.
There, he spoke to the Japanese ambassador and his Korean wife, who was originally from Gyeongsangbuk-do Province; she told Youn that she was "from the region where Takeshima is." Youn said her words shocked him, as Takeshima is the Japanese name for Dokdo.
Since that fateful evening, Youn has made placards, banners and T-shirts stressing Dokdo as Korean territory. He has installed one sign and seven placards at the four restaurants he runs in the Lao capital and makes his employees wear shirts expressing his message.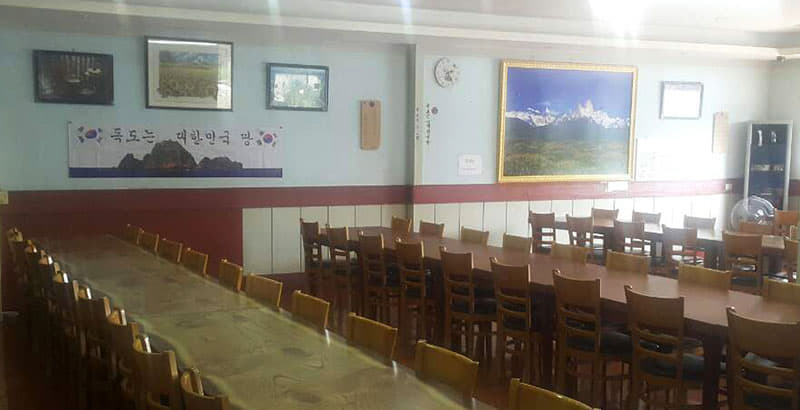 Because his Lao customers cannot read Hangeul on the signs and banners hanging on his restaurants, he explains to them that the territorial dispute over Dokdo is part of longstanding and unresolved tension between Korea and Japan. Many Laotians have a positive perception of Japan, which has helped Laos with its main infrastructure.
Youn, however, said his Lao customers have also expressed sympathy toward his campaign, as Laos was once under Thai domination and lost about half of its territory to Thailand from the late 18th century to the late 19th century.
Though having championed Korean sovereignty over Dokdo for years, Youn said beginning his campaign was far from easy. He said several Japanese customers quietly left the restaurant after seeing the signs and even certain Koreans criticized his posting of such banners in Laos as "gratuitous."
Despite such opposition, the restaurateur has continued with his crusade, saying, "I'm kind of sad that something that is only natural is treated as unnatural."
"It's important to raise awareness of territorial claim issues to Laotians, who share a similar history with Koreans."
Youn also expressed hopes for a successful state visit by President Moon to Laos from Sept. 5-6, adding that Seoul should help set up King Sejong Institutes (centers worldwide for Korean-language education) to meet rising demand in Laos for learning Korean. He said helping the Lao education system improve and providing high-caliber education are in accord with Korea's New Southern Policy.
On his plans, Youn said he wants to cook and sell in Laos Korean food made with ingredients from Dokdo. He also hopes to hold in Laos an exhibition of culinary specialties from Ulleungdo Island, which is 1 1/2 hours away from Dokdo, and promote awareness among Laotians of Korea's provincial regions.