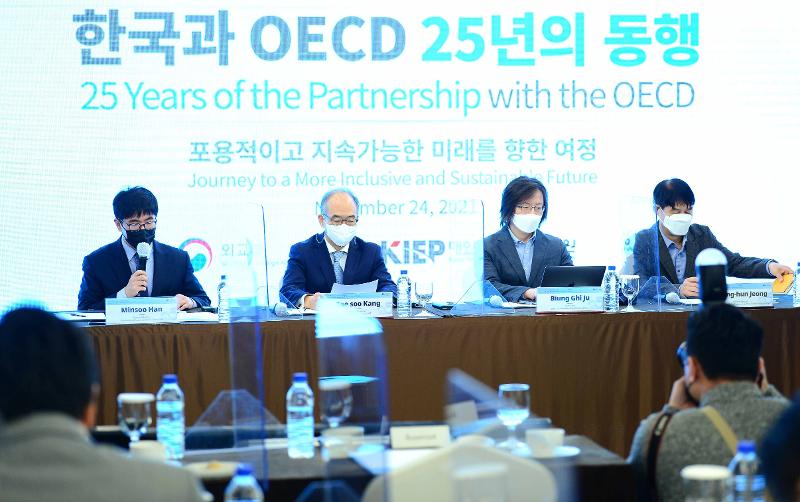 By Xu Aiying and Kim Hayeon
The Ministry of Foreign Affairs and the Korea Institute for International Economic Policy on Nov. 24 discussed changes in major socioeconomic indicators at their joint seminar marking the 25th anniversary of the nation's entry into the Organization for Economic Co-operation and Development (OECD) at Lotte Hotel Seoul in the city's Jung-gu District.
Under the theme "25 Years of the Partnership with the OECD – Journey to a More Inclusive and Sustainable Future," the event featured experts making presentations and discussing cooperation between Korea and the OECD over the period including achievements, remaining challenges and digital transformation.
Experts presented and discussed Korea and OECD-level cooperation on 25 years of OECD membership, future tasks, and digital transformation.
The biggest changes cited were the big increases in the nation's trade volume and gross national income (GNI) per capita.
Over the past 25 years, trade volume ballooned 250% from USD 280 billion in 1996 to USD 980 billion last year, while GNI per capita shot up 138.8% from USD 13,351 to USD 31,881.
Improvements were seen in social indicators as well. Life expectancy rose from 74.2 years in 1996 to 83.3 in 2019, and the average number of annual working hours last year was 1,927, down from 2,119 in 2011.
Second Vice Minister of Foreign Affairs Choi Jong-moon said, "For Korea, joining the OECD posed the challenge of breaking away from an economic growth-based system and making a leap toward becoming an advanced country through the overall transformation and reform of society."
OECD Secretary-General Mathias Cormann in a congratulatory video speech said, "Korea provides a truly inspirational example of how sound economic policies and investment in future growth engines can drive successful economic development."
"Korea has contributed to the organization through its rich reform experience in areas such as public sector innovation, competition and green growth" he added. "Korea's swift and effective measures to contain the virus and protect households and businesses limited the damage to its economy, placing it among the fastest recovering OECD countries."