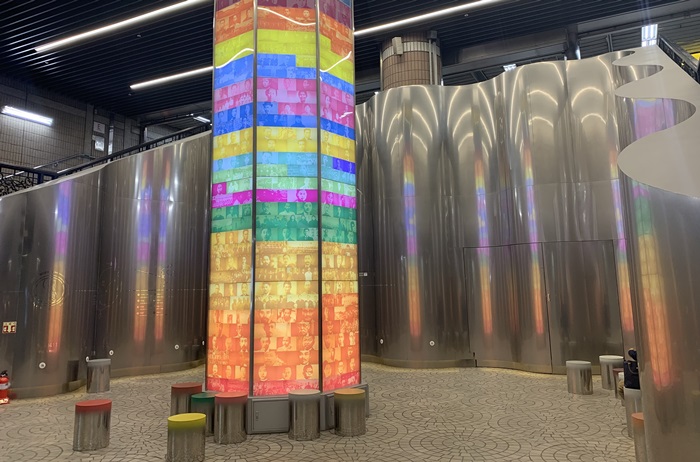 By Song Baleun and Kim Hwaya
"Entering the gate is same as opening the Provisional Government of the Republic of Korea."
This phrase is on a sign for 100 Gate at Exit 4 of Anguk station in downtown Seoul. Unveiled on April 11, 1919, the gate of the Korean Provisional Government building is painted on a canopy above the sign.
Anguk has been designated the commemorative station for the March First Independence Movement. The area surrounding the station as well as Bukchon Village and the neighborhood of Insa-dong served as the main venues of the March First Independence Movement of 1919.
The station underwent renovation to mark the centennial anniversary of both the movement and the Korean Provisional Government. The history of the movement's process, the ceremony for the Korean Declaration of Independence and the Korean Constitution are found all over the station through touchscreens, maps and videos in both Korean and English.
At the station's B1 level, the colorful octagonal pillar 100 Tower features eight angles symbolizing the eight traditional provinces of Korea. It displays the faces of 800 independence fighters from Lee Bong-chang, an activist who attempted to assassinate Japanese Emperor Hirohito, to Park Eun-sik, the second president of the Korean Provisional Government.
In addition, the exhibition "100 Years of River Flow" features the history of Korea's democratic and independence movements since 1919. Lyrics like "Korea is a democratic republic" (from a song often sung in peaceful demonstrations) appears onscreen written as "The Candlelight Revolution in 2017" beside other river-like screens showing major historic events such as the May 18 Gwangju Democratization Movement of 1980 and the 1919 Korean Declaration of Independence.
On the subway platform, the names of lesser-known activists are written on the 100-year Memorial Bench. A touchscreen installed in front of the bench shows Kim Gu, an independence activist and politician who was one of the founders of the Korean Provisional Government, with text in both Korean and English. The biographies of 100 other activists are also accessible on the touchscreen.
A visitor at the station said, "There were some attractive artworks so I looked at them closely," adding, "The station was well renovated with pictures and documentary films."
"The film of Kim Gu's speech is a valuable historical record, even impossible to watch on TV."