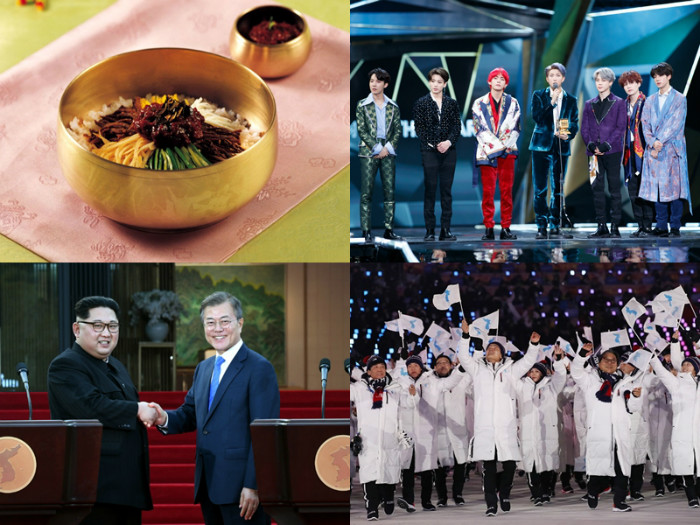 By Kim Hyelin and Kim Young Shin 
A survey has found more than 80 percent of global respondents saying Korea has a positive national image, adding that the country's hosting of international events last year such as the PyeongChang 2018 Winter Olympics and Paralympics and inter-Korean summits contributed to the favorable impression.
The Korean Culture and Information Service, a subsidiary of the Ministry of Culture, Sports and Tourism, announced the results of an online questionnaire on Korea's national image in 2018 conducted on 8,000 people from 16 countries.
Seventy percent of the respondents said the PyeongChang Olympics and the inter-Korean summits played a major role in Korea building a positive image abroad. Other factors that made the Land of the Morning Calm look good included modern Korean culture (35.3 percent), level of economy (17.5 percent), cultural heritage (12.3 percent), Korean products and their manufacturers (12 percent), and denuclearization (5.7 percent).
Denuclearization went from a perennially negative factor in the past to a positive facet of Korea's image last year. Respondents also said the country's international profile will further improve after inter-Korean problems are resolved in a peaceful manner.
The top keywords on Korea's national image were related to Hallyu, or the Korean Wave, with the most popular being "Korean food" (40 percent), "K-pop" (22.8 percent), "Korean culture" (19.1 percent) and "K-beauty" (14.2 percent). The sectors with the highest accessibility per the poll results were modern culture including Hallyu and the arts (36.2 percent), economy (18.1 percent), international security (17.8 percent) and cultural heritage (10.7 percent).