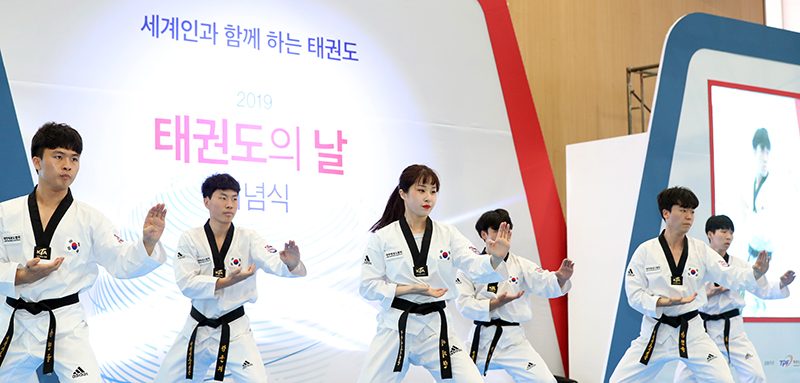 By Kim Hwaya
A celebratory event to mark the 12th annual Taekwondo Day on Sept. 4 was held at Taekwondowon, a venue and park dedicated to the Korean martial art in Muju-gun County, Jeollabuk-do Province.
Hosted by the Taekwondo Promotion Foundation, the event was held under the theme of "A celebration of harmony for a successful taekwondo competition at the 2020 Tokyo Olympics."
Starting the event was a performance by the Korea Taekwondo Association's demonstration team, followed by the Pledge of Allegiance, a congratulatory address, screening of a video featuring Koreans expressing their wishes for taekwondo and a commendation ceremony.
About 400 people attended the event including Vice Minister of Culture, Sports and Tourism Roh Tae-gang, other high-profile government officials and leaders of taekwondo organizations.
Roh said, "Taekwondo has become a sport loved by people all over the world regardless of nationality, region, religion or ideology," and asked all taekwondo figures to help develop the martial art.
On July 25, 2006, the World Taekwondo Foundation designated Sept. 4 as Taekwondo Day at its general assembly to commemorate Sept. 4, 1994, when the International Olympic Committee designated the martial art an official Olympic event. In 2008, the Korean government through a presidential decree officially declared Taekwondo Day on Sept. 4 as a national memorial day.