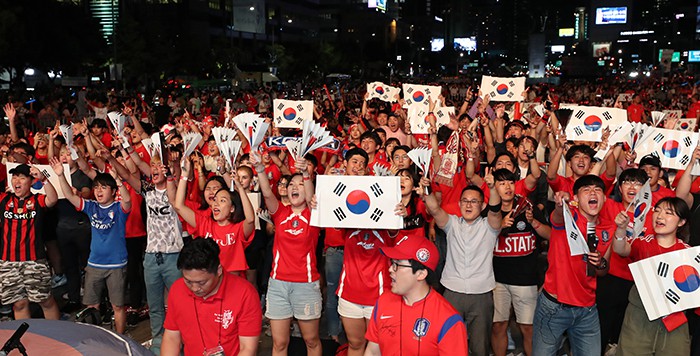 By Jung Joo-ri and Hahm Hee-eun
Photos = Jeon Han
Seoul | June 18, 2018
The first match for Team Korea in the 2018 FIFA World Cup Russia was held on June 18. Despite the hot summer-like weather, Gwanghwamun Square was packed with soccer fans five hours before the kickoff.
The sea of fans dressed in red T-shirts and face paint, collectively known as the Red Devils, or Bulgeun Angma in Korean, didn't seem to mind the summer heat and long hours of waiting. They longed for a victory in the match against Sweden, the first hurdle to make it to the Round of 16. As kickoff approached at 9 p.m. local time, Gwanghwamun Square was brightly lit with streetlights, the venue was filled with people old and young, male and female, and the sound of cheering became even louder.
Kim Ji-eun, who has saved a spot some six hours before the start of the game, said, "This is the first time in 16 years, since 2002, that I've come out for a public screening of a soccer match and to chant, "Daehan Minguk!" I want to enjoy this moment of cheering with everyone, regardless of the results."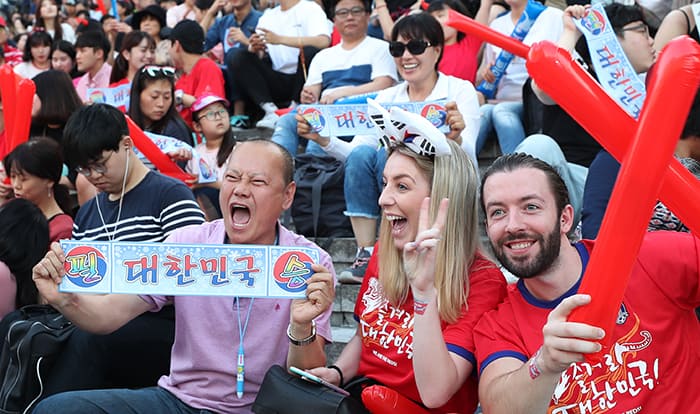 The city of Seoul has hosted public screenings of major national-level soccer games in Gwanghwamun Square and elsewhere since 2002, and this year many non-Korean fans of Team Korea were spotted among the crowds.
Mathieu Piron-Laffeur from France said, "I came to Korea for a short visit and thought that it would be nice to experience a public screening here. It's quite different from France."
Jurij Toplak from Slovenia, with his son atop his shoulders, was also cheering for Team Korea. His son got a lot of attention from reporters, as he was waving a Taegeukgi, the national flag. When asked for a comment, Toplak said, "Korea's public screenings are perfect for families. I've watched soccer matches in many different countries, including Serbia and Italy, but the public screenings in Korea are the most lively, satisfying and agreeable for families with children." He gave a thumbs-up as he shared his comments.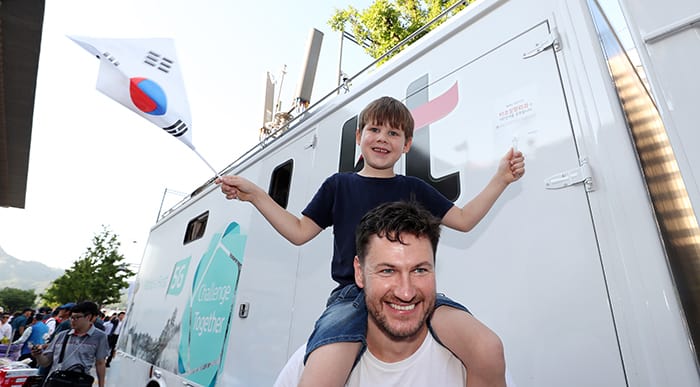 Also in Gwanghwamun Square were crowds clearly cheering for Sweden.
Fiona Sjoeberg from Sweden said, "I came here hoping for a Swedish victory, but the atmosphere shows that the World Cup is a festival for everyone." She laughed and added, "It's so festive that I even feel like cheering for Korea, too."
In the match itself, Swedish captain Andreas Granqvist scored after being awarded a penalty kick in the second half of the match and secured a 1-0 victory for the Europeans.