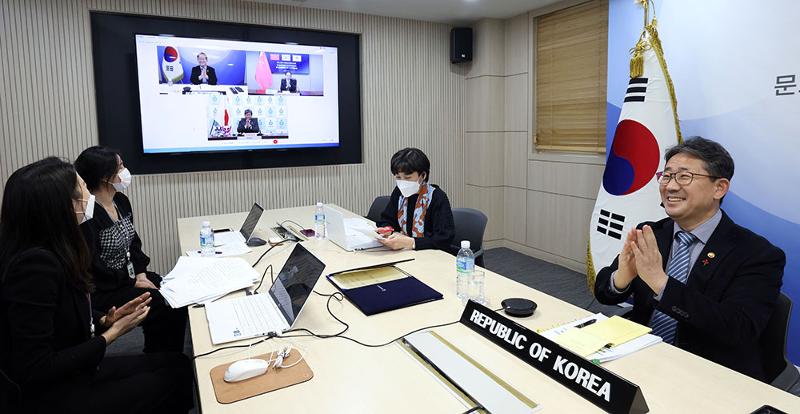 By Xu Aiying and Lee Hana
Korea, Japan and China have agreed to join hands in exploring the direction of sports policy in the COVID-19 era.
Minister of Culture, Sports and Tourism Park Yang-woo on Dec. 24 attended the third meeting of the sports ministers of Korea, Japan and China with Japanese Minister of Education, Culture, Sports, Science and Technology Koichi Hagiuda and China's State General Administration of Sports Director Gou Zhongwen.
Held via videoconferencing, the meeting focused on efforts to promote sports exchanges and cooperation among the three Northeast Asian countries.
The three ministers agreed that the pandemic has brought severe difficulties to global sports development and exchanges, stressing solidarity and cooperation among their countries in overcoming COVID-19.
They also agreed not only to increase trilateral cooperation but also encourage both online and offline exchanges among sports organizations and professionals to share experiences and promote the mutual advancement of sports.
The three countries also pledged cooperation to ensure the successful hosting of next year's Tokyo Summer Olympics, the 2022 Beijing Winter Olympics and the 2024 Winter Youth Olympics in Korea's Gangwon-do Province.
Other items of agreement included sharing knowledge and technology to ensure the success of the three upcoming Olympics and encouraging each event's promotion, cooperating in Olympic education and cultural heritage, and boosting and encouraging exchanges among host cities and sports associations.
Finally, the ministers signed the Beijing Joint Statement on responses to the pandemic, cooperation in the forthcoming Olympic events and expansion of sports exchanges, agreeing to continuously implement these terms.