Two test events were held in preparation for next year's PyeongChang 2018 Olympic and Paralympic Winter Games, in Pyeongchang, Gangwon-do Province, one of the three host cities for the Winter Games.
From Feb. 3 through 5, athletes from around the world raced through the snow-capped fields at the Alpensia Resort as they competed in cross-country skiing, the "Marathon in the Snow," and in Nordic combined, the "King of Skiing."
The FIS Cross-Country World Cup kicked off its three-day run on Feb. 3 at the Alpensia Cross-Country Center in three events: sprint, team sprint and skiathlon. The competition had a total of 34 cross-country skiers from 13 countries poling through the snow-capped hills and fields.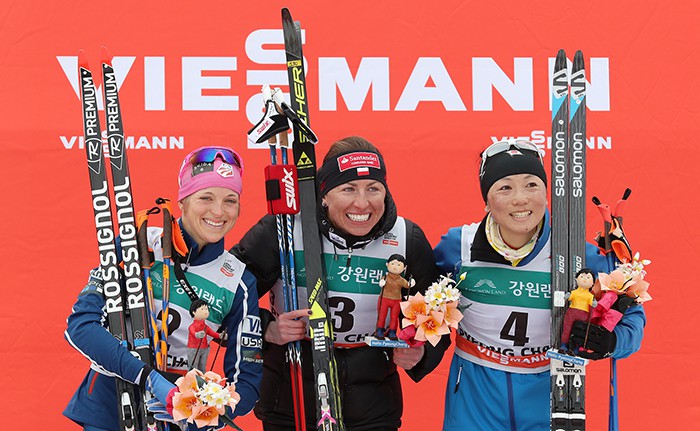 After their competition, the athletes all exclaimed that it was wonderful.
Gleb Retivykh of Russia, who triumphed in the men's sprint, said of the cross-country course at the venue that, "It's the most attractive and most demanding course I've ever experienced." The Russian cross-country skier continued to say that, "The corners and the downhill course require perfect precision."
Silje Slind, a Norwegian who finished second in the women's sprint, smiled, saying, "The second ascent was quite challenging, but the course as a whole seems well-organized. I really had fun today."
Ski jumpers leapt into the air as the FIS Nordic Combined World Cup started at the Apensia Ski Jumping Center, just next-door to the venue for cross-country skiing. Amid an audience holding its breath in silence below, the participating athletes performed their jumps from the ski jump hill at dizzying heights. After the ski-jumping portion, they changed to different skis for the next cross-country race and mustered all their remaining strength to pole through a 10-kilometer snowy field.
In the Nordic combined, the winner in the ski jump portion has a head start, while the others start with time disadvantages of a few seconds, based on their scores on the jump.
The Nordic combined test event, too, gained rave reviews. Tim Hug of Switzerland, who finished in seventh place in the Feb. 4 competition, said, "It's the sporting venue: excellent, well-equipped. The courses are really difficult, but excellent."
By Sohn JiAe
Korea.net Staff Writer
Photos: Jeon Han Korea.net Photographer
[email protected]