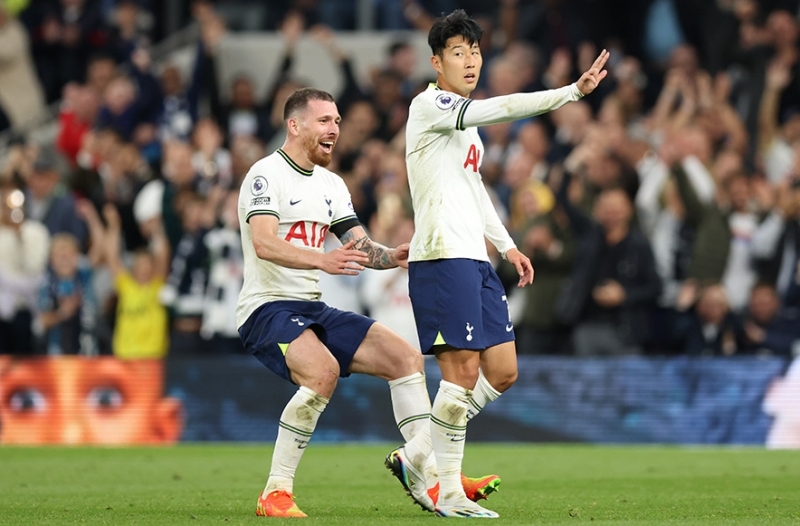 By Park Hye Ri
Star Son Heung-min of the English Premier League (EPL)'s Tottenham Hotspur has scored a hat-trick within 13 minutes after coming off the bench.
The striker on Sept. 17 led his team with three goals in a 6-2 home win over Leicester City in the eighth week of the EPL season at Tottenham Hotspur Stadium in London.
Tottenham was ahead 3-2 in the 14th minute of the second half when Son replaced teammate Richarlison de Andrade. In the 28th minute of the half, Son scored his first goal of the season with a right-footed blast from mid-distance.
In the 39th minute of the second half, the striker received a pass from teammate Harry Kane and scored by switching from his right to left foot. Two minutes later, he completed his hat-trick with a right-footed shot with an assist from Pierre-Emile Hojbjerg.
Tottenham said Son's goals took just 13 minutes and 21 seconds. He is the first player in the EPL to score a hat-trick as a sub since Everton's Steven Naismith in September 2015 in a game against Chelsea.
Son is also the first Spurs player to score a hat-trick as a substitute in an EPL game.
The striker had gone scoreless in his first eight games this season — six league and two UEFA Champions League matches.
With his latest hat-trick, Son raised his EPL goal tally for his career from 93 to 96.
Several U.K. media praised his play. The BBC gave Son a rating of 9.39 and named him "Man of the Match."
The British soccer site Football London said, "Son Heung-min was the hero in Tottenham's 6-2 win over Leicester City as he netted a hat-trick off the bench."
hrhr@korea.kr