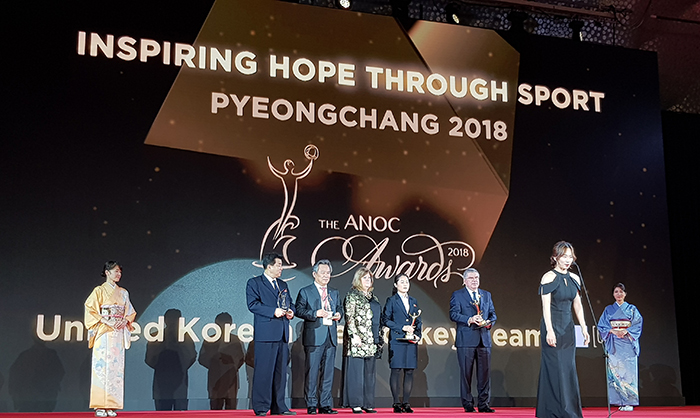 By Kim Young Shin and Kim Minji
The Association of National Olympic Committees (ANOC) awarded trophies to figure skater Kim Yuna and PyeongChang 2018 Olympic Winter Game star the Unified Korean Ice Hockey Team on Nov. 28.
"Inspiring Hope through Sport award was given to the Unified Korean women's ice hockey team for its historic collaboration at PyeongChang 2018", said ANOC. The inter-Korean joint team was organized for the first time in Olympic history. Although it was defeated in all its five games, it sent out the message of peace to the world. Both South Korean player Park Jong-ah and North Korean player Kim Un-hyang attended the awards ceremony.
Furthermore, the Outstanding Performance Award was given to Kim Yuna, who always showed great performances.
During the ceremony, athletes including Shaun White, American snowboarder and Arianna Fontana, Italian short track speed skater who lit up the PyeongChang 2018 Olympic Winter Game were given nine awards. ANOC Awards celebrates its 5th year and is an event honoring athletes and National Olympic Committees that contributed in the Olympics.