By Cao Thi Ha

Gracenote, an affiliate of Nielsen that analyzes data, predicted that Korea will rank 10th in overall categories for the 2024 Paris Summer Olympics.

The company announced on July 26 its predicted rankings from 1-30 for the 2024 Paris Summer Olympics, just a year before the event takes place.

Korea ranked 10th with eight gold, seven silver and 14 bronze medals.

The predicted results are better than Korea's performance in the 2020 Tokyo Summer Olympics with six gold, four silver and 10 bronze medals.

Gracenote called the 2020 Olympics "disappointing" for Korea and said that it was the country's lowest result since the 1984 Los Angeles Games, when Korea won 19 medals including six gold.

It predicted that Korea would win 29 medals at the 2024 Paris Olympics.

Gracenote said that the rankings may not be on par with Korea's achievements in the 2004 Athens Olympics (9th), 2008 in Beijing (7th) and 2012 in London (5th), but that Korea will walk in the "right" direction.

The company projected the U.S. to top the Paris Olympics results with 43 gold, 43 silver and 42 bronze and clinch its fourth consecutive overall win at the Olympics.

It predicted China will be second with 26 gold, 20 silver and 22 bronze, and projected France to be in third place with 32 gold, 20 silver and 11 bronze medals.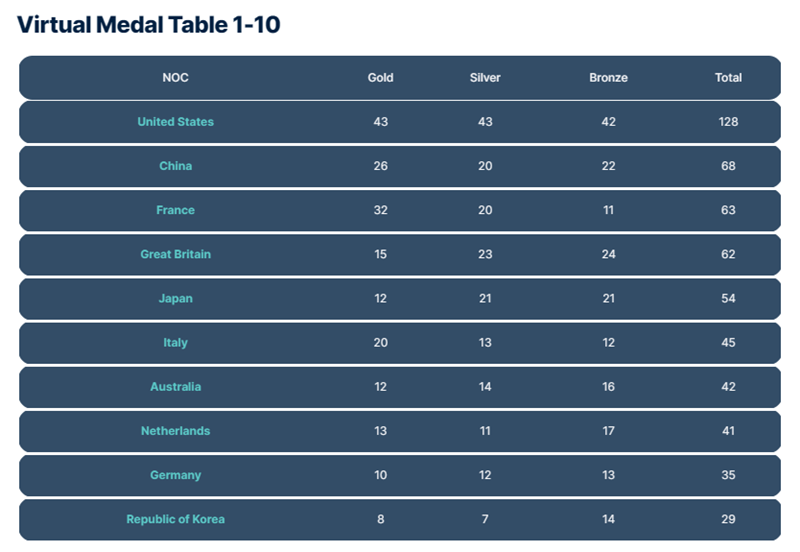 shinn11@korea.kr