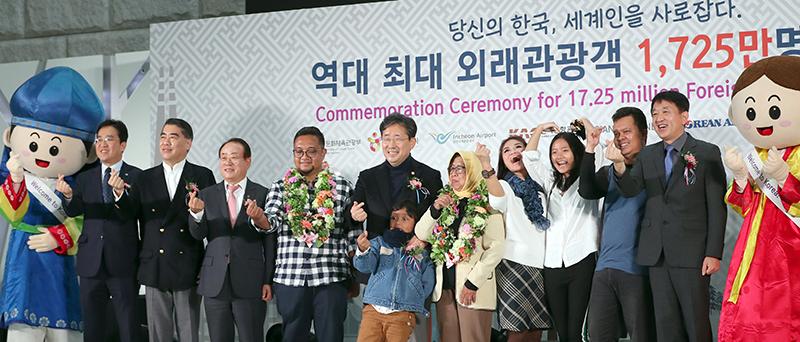 By Xu Aiying and Lee Jihae
Photos = Heo Man-jin, Ministry of Culture, Sports and Tourism
The number of foreign visitors to Korea has broken a record high this year, the Ministry of Culture, Sports and Tourism said on Dec. 26.
The ministry held a celebratory ceremony the same day to mark the milestone of 17.25 million foreigner tourists who visited Korea this year, a figure that is expected to hit 17.5 million by year's end. The previous mark of 17.24 million was set in 2016.
Minister of Culture, Sports and Tourism Park Yang-woo gave a bouquet of flowers to Indonesian national Eko Prasetio, who was the 17.25 millionth foreign tourist to Korea this year.
"The government will cooperate with the (tourism) industry to reach the goal of attracting 20 million foreign tourists next year in making a country that is a prime tourist attraction," he said, urging more visits to Korea.
The ministry said 17.5 million foreign visitors to the country in a year means that one steps foot in Korea every 1.8 seconds and 118 airplanes each accommodating 407 passengers enter daily over a full year.
The rise in foreign tourists was attributed to a policy targeting Chinese tourists as well as that seeking to diversify the tourism market.
President Moon Jae-in on Dec. 26 wrote in a Facebook post, "We will use this year's accomplishments as a leap forward for the tourism industry," adding, "We will open the era of 20 million foreign tourists next year."