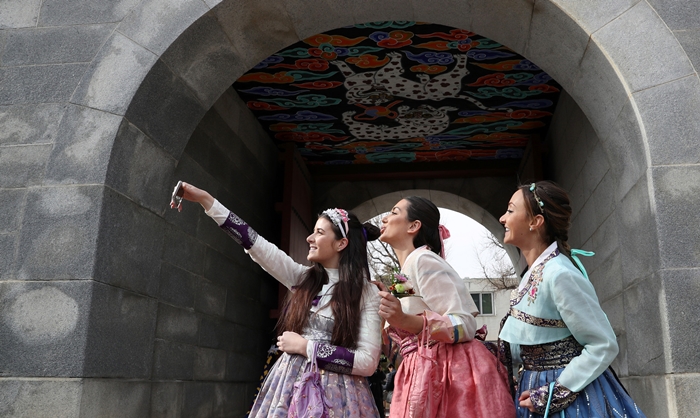 By Kang Gahui and Kim Young Shin 
Asian visitors in Seoul consider visits to and shopping in Myeong-dong, a bustling and popular neighborhood in downtown Seoul, the most satisfying while traveling in Korea whereas European and American tourists prefer palaces and historical sites, a recent survey showed.
Seoul Metropolitan Government on Jan. 25 released the results of a study on tourist preferences by Korean region based on 2017 data compiled on 9,942 foreign tourists in Seoul over age 15.
Their preferences were also strongly correlated with the reasons they chose Korea as a travel destination. Travelers from Asian countries including China and Japan mainly came to Seoul for shopping but those from Europe and North America opted for cultural attractions and heritage.
Regardless of nationality, however, all foreign tourists expressed the most satisfaction with public security and the least with language and communication during their stays.
The municipal government said visiting the capital greatly boosted the perception of Korea by foreign visitors, with 97.3 percent of American and 96.8 percent of European tourists seeing the nation in a more positive light after visiting Seoul, up from 78 and 77.7 percent before their trips, respectively.
"We'll work on attracting more international tourists here based on Seoul's charms that we learned about from the study," said Joo Yong-tae, head of the city's tourism and sports bureau.