By Lee Hana
The Ministry of Culture, Sports and Tourism on Dec. 10 announced its list of this year's stars of Korean tourism.
In its annual ceremony for the Stars of Korean Tourism Awards at Seoul's Shilla Hotel, the ministry honored tourist destinations, TV programs and cultural ambassadors that all helped to enrich Korean tourism over the past year.
Seven awards were given in the main and special categories.
The main category winners were Naganeupseong Folk Village in Suncheon, Jeollanam-do Province, Taehwagang National Garden in Ulsan, Mancheonha Skywalk in Danyang-gun County, Chungcheongbuk-do, and Jeongnamjin Cypress Forest Woodland in Jangheung-gun County, Jeollanam-do.
The special category awards went to Bunker de Lumieres on Jeju Island, the TV show "Welcome, First Time in Korea?" produced by MBC Everyone and the K-pop boy band Exo.
Minister of Culture, Sports and Tourism Park Yang-woo thanked the honorees for their contributions and said, "As the leading stars of Korean tourism, I ask that you guide our path toward an even brighter future."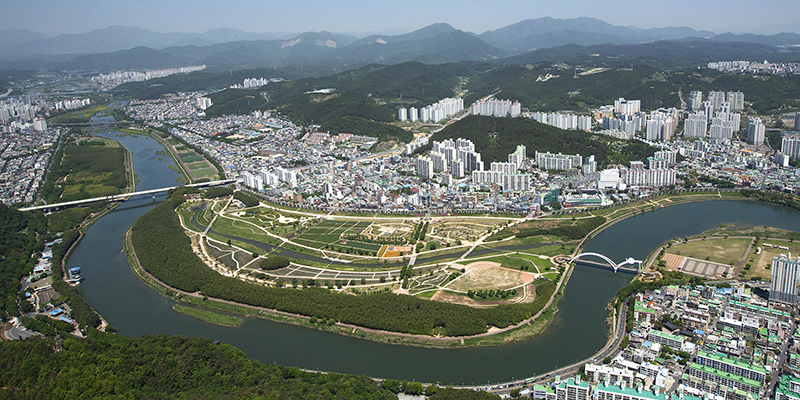 Naganeupseong Folk Village in Suncheon, Jeollanam-do Province, is a fortress village from the Joseon era (1392-1910) and designated Historic Site No. 302 by the government. The fortress, government offices, guesthouses, markets and thatched houses have been carefully preserved in their original forms, and the still-populated village makes it the perfect place to experience Korean history and living tradition.
Taehwagang National Garden was built on land originally meant for development as a residential area. Constructed from 2004-10, the garden also spurred measures to restore the once-polluted Taehwagang River. Covering 531,000 square meters and filled with bamboo, hibiscus, seasonal and water gardens, the garden this year was designated the country's second national garden after Suncheonman Bay National Garden in Jeollanam-do Province.
Mancheonha Skywalk in Danyang-gun County, Chungcheongbuk-do Province, is comprised of a glass bridge overlooking the Namhangang River, a zip wire stretching some 980 meters, a monorail that winds through a forest at 40 km per hour and a road winding along the river's cliffs. Since opening in 2017, the skywalk has attracted more than 2 million visitors.
Bunker de Lumieres (Bunker of Light) on Jeju Island, selected for its tourism potential, is an exhibition center for media art built on the former site of a military communication facility. Opened in November last year, the center features recreated works by masters like Gustav Klimt and Vincent Van Gogh using multiple projectors and sound systems.
"Welcome, First Time in Korea?" is a TV program featuring the experiences of foreign tourists visiting Korea for the first time, with some 117 episodes being aired between June 2017 and November this year.