Seoul, the Korean capital since 1392, is home to a number of royal palaces, ancient structures scattered across the modern city center. Two of the palaces, Gyeongbokgung Palace, the official residence and workplace of the king, and Changgyeonggung Palace, a secondary palace for the queens, will now be open to the public in the evenings, offering special nighttime opportunities to visit the ancient royal residences.
For 15 days this fall, the Cultural Heritage Administration (CHA) will open the two royal palaces in the evenings, starting Oct. 16. Gyeongbokgung Palace will be open between Oct. 17 and Nov. 2, but closed on Tuesdays, and Changgyeonggung Palace will be open between Oct. 16 and Nov. 1 and closed on Mondays.
During the night openings, a variety of traditional music and dance performances will be staged at the palaces, and there will also be an exhibition about the life of Joseon palace women.
Opening times are between 7 p.m. and 10 p.m. and the last visitor will be admitted at 9 p.m. Also, the National Palace Museum of Korea on the grounds of Gyeongbokgung Palace will be open until 10 p.m. The museum will be closed on Mondays and after 6 p.m. on Tuesdays, when Gyeongbokgung Palace itself will be closed.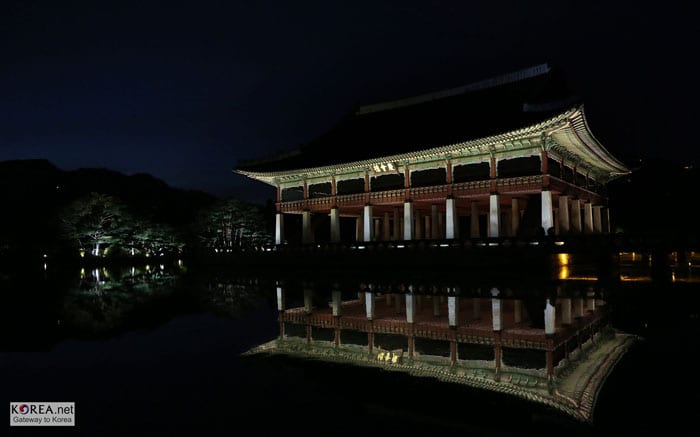 Each palace will allow in 2,500 visitors per day and visitors are able to purchase up to four tickets each. Non-Koreans and international tourists can purchase tickets on site. Admission is KRW 3,000 for adults at Gyeongbokgung Palace and KRW 1,000 at Changgyeonggung Palace.
By Chang Iou-chung
Photo: Jeon Han
Korea.net Staff Writers