By Kim Hwaya
Fall foliage this year has started a little later than usual.
Affected by the late summer heat, fall foliage this year started one to four days later than previous years. The weather service Weatheri said the first fall foliage (when about 20% of a mountain is covered with colored leaves) officially started on Sept. 27 at Seoraksan Mountain in Gangwon-do Province.
Fall foliage moves southward at a speed of 20-25 km per day and Bukhansan Mountain in the central region will start to see colored leaves around Oct. 14. Southern regions including the two Jeolla provinces and Jeju Island will see fall foliage from mid or late October.
Peak foliage, which occurs when about 80% of a mountain is covered with colored leaves, usually comes two weeks after the first foliage of the season, thus many people are expected to visit mountains between mid-October and early November.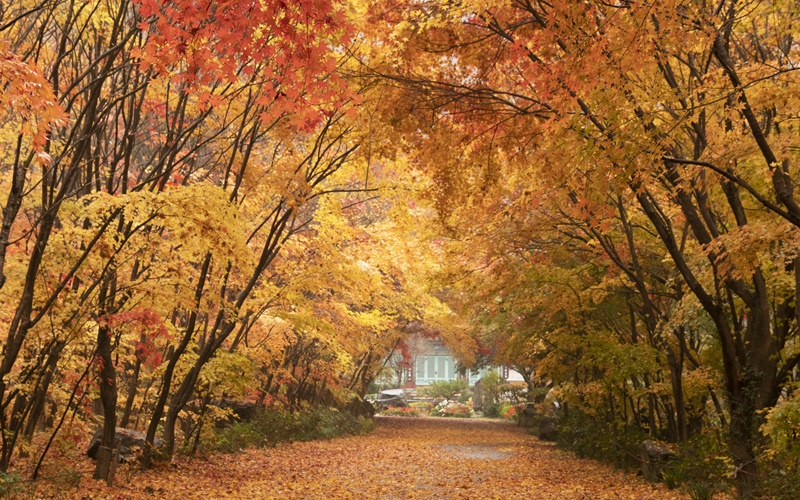 The Korea National Park Service's recommended hiking trails include the Baekdamsa Temple Course, which has a view of Baekdam Valley and the fall foliage of inner Seoraksan Mountain, and the Baekyangsa Temple Course on Naejangsan Mountain, which is the country's most popular mountain in fall. More recommendations for trails at national parks are available on the website of the Korea National Park Service. (http://english.knps.or.kr/)
In addition, the Korea Meteorological Administration's homepage (http://www.weather.go.kr) tracks fall foliage at national parks and offers past observational data in Korean, English, Japanese and Chinese.