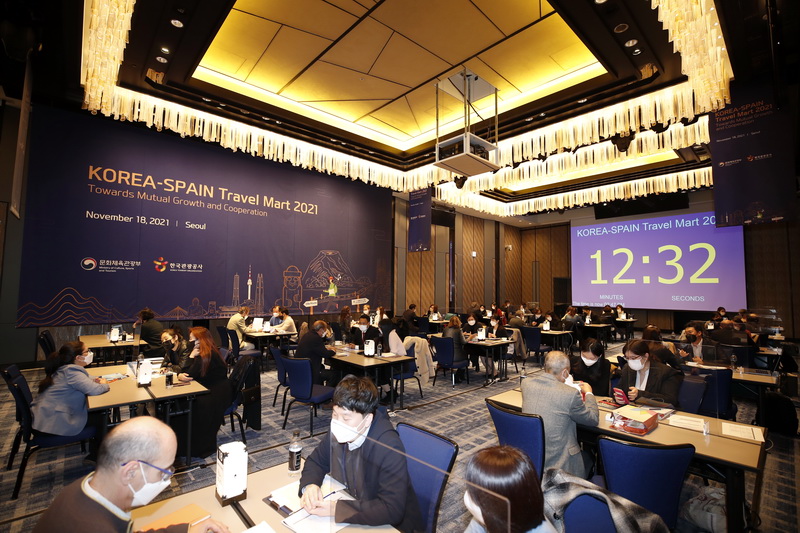 By Elias Molina and Yoon Hee Young
The Ministry of Culture, Sports and Tourism and Korea Tourism Organization on Nov. 18 invited 18 Spaniards including the CEO of a wholesale travel agency to the 2021 Korea-Spain Travel Mart at Four Seasons Hotel in Seoul's Jongno-gu District.
Approximately 30 representatives from 20 Korean travel agencies also joined to hold one-on-one talks on the development of Korean tourist products.
Entering Korea on Nov. 16, Spanish travel figures through Nov. 22 will visit major cities including Seoul, Andong in Gyeongsangbuk-do Province, Jeonju in Jeollabuk-do Province and Incheon in efforts to develop the products. Through this tour, they will support the development of travel courses for experiencing Korean culture and traditions and meet new demand for tourism after the pandemic.
Spain has assessed that travel to Asia is growing. As of 2019, the number of Spanish tourists to China and Japan exceeded 100,000 each and those to Korea before the pandemic was 30,656 that same year, up 12.24% from 2018.
During President Moon Jae-in's state visit to Spain in June, Minister of Culture, Sports and Tourism Hwang Hee and Spanish Minister of Industry, Trade and Tourism Maria Reyes Maroto signed a memorandum of understanding to extend the 2020-21 Korea-Spain Mutual Visit Years to 2022.
"With the 'phased return to daily life,' expectations of resuming travel to Korea have risen," a policy officer at the ministry said. "The invitation to Korea of Spanish travel industry figures has secured new Spanish-speaking retailers with strengths in developing tourist products for Korea from the European and Latin American regions, and serve as a good opportunity to dominate the tourism market for the Spanish-speaking bloc after the pandemic ends."